Could Anwar be reaping the "harvest" from the seeds of education he sowed in the past?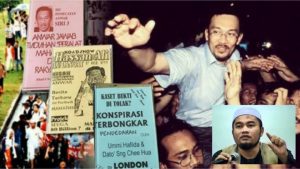 So, what message is he sending to all those young people who were captivated by the myth of a man who suffered political persecution to do the right thing, to fight injustice and corruption?
Niza Shimi, Focus Malaysia
IT WAS a déjà vu moment watching a livestream of the Himpunan Aman Selamatkan Malaysia (Peaceful Gathering to Save Malaysia) as the sizable crowd of mostly young Malays gathered outside the Masjid Jamek Kampung Baru.
They then marched towards and merged with a waiting crowd in front of the SOGO department store with shouts of Refor-Mati! (a wordplay to imply that Reformasi is dead), Undur Anwar! (Anwar Resign) and Dakwa Zahid! (Charge Zahid).
The organisers from Perikatan Nasional (PN) youth wing and various NGOs (non-government organisations) also lodged a report at the Dang Wangi police station against Deputy Prime Minister (DPM) Datuk Seri Ahmad Zahid Hamidi's DNAA (discharge not accounting to an acquittal).
Many of the marchers – estimated to be aged in their early 20s and 30s – were probably babies when in 1998 the then sacked DPM Datuk Seri Anwar Ibrahim initiated the Reformasi Movement to call for then Prime Minister (PM) Tun Dr Mahathir Mohamad to resign.
The PN marchers are presumably part of the political phenomenon touted as the "green wave" – the surge of young voters during the 15th General Election (GE15) and recent six state polls who voted for PN.
Imitating Reformasi movement
Perhaps these young protestors are emulating what Anwar – now the 10th PM of Malaysia (PMX) – used to do back in his younger days, ie to participate in protests and demonstrations against the government of the day.
Those days there were no laws that specifically restrict the 3R issues of race, religion and royalty – but there was the more draconian Internal Security Act (ISA) that allowed for detention without trial (the ISA was repealed in 2011).
Anwar himself was arrested twice under the ISA; in 1973 for student demonstrations against poverty in Baling, Kedah and in 1998 after he was sacked as DPM.
The ISA has been replaced with the controversial Security Offences (Special Measures) Act 2012 (SOSMA).
Would PMX be as high handed against protestors who use the other version of 3R – to "reduce, reuse and recycle" all the political tactics and strategies he inspired with his Reformasi movement?
As the 3R Act has yet to be tabled, it would be ironic indeed if the man who made an international name for leading the movement against injustice were to resort to other laws such as the Sedition Act 1948.