Zaid hits out at Bar Council for silence on continued use of Sedition Act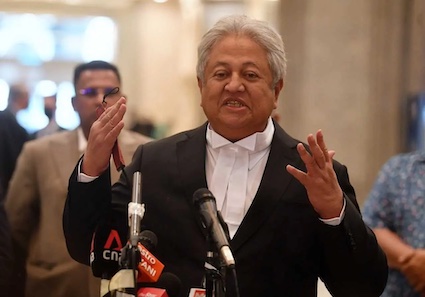 (Malaysia Now) – Lawyer Zaid Ibrahim has questioned critics of the Sedition Act over their apparent silence in the wake of the arrest of Kedah Menteri Besar Muhammad Sanusi Md Nor.
Zaid, who was supportive of Umno's alliance with Pakatan Harapan to form the government last year, said they had been busy going after their critics.
"The most significant achievement of the Madani government is using the Sedition Act against its political opponent. When this opponent said sorry, the Madani minister replied, 'That's not enough'," he said today, hours after scores of police descended on a hotel in Kuala Lumpur to arrest Sanusi.
Zaid's comments were supported by lawyer Ambiga Sreenevesan.
"I agree with Zaid Ibrahim that the use of the Sedition Act against poltical opponents (and in fact against anyone) by this government is wholly unacceptable.
"So contrary to the Malaysia we fought for. The Sedition Act must be abolished!" the former Bar Council president said on Twitter.
Sanusi is being charged over remarks in a speech mocking the performance of Selangor Menteri Besar Amirudin Shari as well as his appointment by the sultan.
He has since apologised to the Selangor ruler, but government leaders including law minister Azalina Othman Said have pressed for investigations to continue.
Sanusi's appearance in court today comes just five days after the police launched an investigation into the popular PAS politician.
Zaid meanwhile poked at the current leadership of the Bar Council, which had in the past condemned the use of the Sedition Act against Pakatan Harapan politicians.
"Now that Sanusi will be charged, everyone is happy. No more pressure on the AG.
"The Bar Council, the great defender of the rule of law, must be satisfied too," he added.