KJ: Zahid had offered me Umno deputy president post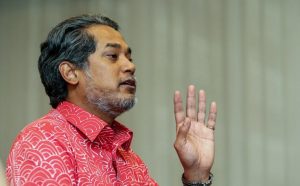 Khairy Jamaluddin today revealed that Umno president Datuk Seri Dr Ahmad Zahid Hamidi had offered him the post of deputy president before the last party polls.
(NST) – Khairy, who was sacked from Umno 10 days ago, said he however turned down the role.
"There was a discussion between Zahid and myself for me to be his deputy, which I turned down because I felt there should be a change in leadership itself within Umno.
"My concern with the leadership is not new. It goes back to pre-2018, when I felt that the party needed something completely fresh to offer a home not just for members, but for voters," said the former Rembau member of parliament.
He said this at a Concorde Club meeting at Concorde Hotel here, today.
The Concorde Club is a monthly informal meeting of senior editors which meets with political leaders and key policy makers.
Asked if he could have acted sooner in driving a change of leadership within the party, Khairy said Umno then did not expect that they were on the edge of a "great defeat".
He added that he had been consistently calling for change since 2018, after Umno's first defeat to Pakatan Harapan in the 14th General Election.
"There is great reluctance within the leadership and warlords in Umno for change.
"So unfortunately, with the expulsion, I have to close the chapter on that."
Khairy, who was former Umno Youth chief, also did not discount the possibility of returning to Umno one day.
"I want to find my way home to Umno one day, but certainly not with the landlord there," he said, in a veiled swipe at Zahid.
Khairy also dismissed the possibility of creating a new political party.
He said the political scene in the country was saturated, and there is little room for another new party.
"I think we have reached a point where our political market is too crowded.
"So even though it is a choice, but it is unlikely (that I will create a new party)."