At Umno assembly, calls for '1 Melayu' to replace '1 Malaysia'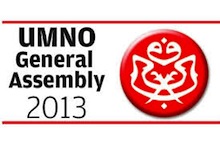 (MM) – Putrajaya should use "1 Melayu" in place of its all-inclusive "1 Malaysia" slogan since efforts to reach out to Chinese voters were snubbed in Election 2013, a Penang Umno delegate told the 64th Umno annual general assembly today.
Datuk Musa Sheikh Fadzir also accused the Chinese community of "betraying" the government, saying they were not appreciative despite the amount of money used to woo them in the run-up to the 13th general election.
"We shouldn't shout '1 Malaysia' anymore; what for? We should now shout '1 Melayu' slogan," Musa said during the policy speech debate.
"What's the use of helping them? We did all these things they stab our backs. All that effort… to hold dinners and such with almost RM30 a head," he added, referring to the many campaign dinners organised by Barisan Nasional prior to the May 5 general election.
In the aftermath of the fractious 13th general election that saw BN register its worst-ever electoral result, attempts were made to frame the outcome as the result of a so-called "Chinese tsunami".
Just two days after the May 5 polls, Umno mouthpiece Utusan Malaysia published on its front page at article titled "Apa Lagi Cina Mahu" (What more do the Chinese want). It also ran editorials accusing the community of undermining Malay political power, despite being given opportunities by the government to earn their riches.
The view was exacerbated when Umno emerged as the biggest winner within BN, winning 88 of the 133 federal seats that the coalition managed to retain in the May 5 polls. Nearly all other component parties registered declines, with the Chinese-based MCA hardest hit.
This led to calls for the country's dominant Malay community to be rewarded for their show of support and for the BN government to stop courting the Chinese due to their lack of support.
Today, Musa continued accusations against the Penang DAP government of discriminating against Malays in the state.
The Penang Umno leader claimed the DAP state government had refused to provide housing aid for Malays, forcing the community to depend solely on the help of the BN federal government.
"You (the federal government) should help us, help the Malays in the rural areas," Musa said, referring to Penang Malays who mostly reside outside urban areas due to their purportedly poor purchasing power.
"Remember, it was us rural Malays that help keep BN in power," he added.
Yesterday, an Umno Youth delegate made a similar claim that the DAP government was intentionally making house prices high to oust the Malays from the island.
But Penang local councillors dismissed the allegation and said house prices on the island were exorbitant for all races, and not just the Malays.