PKR's association with Liberal International goes back years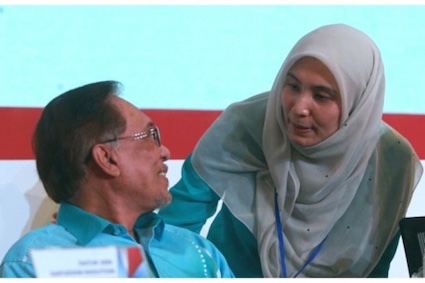 Murray Hunter
Nurul Izzah in 2016 claimed PKR is a full member of LI.
Why is Fahmi Fadzil threatening to prosecute anybody who says PKR is a member?
Will PKR sue Nurul too?
Liberal International (LI) condemns Malaysian court's politically motivated rejection of Anwar Ibrahim's final appeal – Wednesday 14 December 2016
The former leader of the multi-ethnic People's Justice Party (PKR Malaysia – LI full member), Anwar Ibrahim, has seen his final appeal for freedom rejected by a court in Malaysia and will be forced to serve out the final 16 months of his politically motivated sentence of sodomy, barring him from contesting the 2018 national elections.
Anwar Ibrahim, the former Deputy Prime Minister who subsequently broke from the ruling party and led the most successful opposition to its 60-year rule, was sent to prison in 2015 for a conviction of sodomy which was trumped up to keep him from contesting the elections in 2018. Through its work at the United Nations Human Rights Council, resolutions and statements Liberal International has fought for Mr. Anwar's freedom alongside scores of international human rights organisations.
LI President, Dr. Juli Minoves, who met with PKR leaders in Malaysia last year, said: "This appalling verdict is an affront to the democratic values held by a majority of Malaysians. Everything about the case is untenable: these are politically motivated charges for crimes that should never be in the books in a country respectful of human rights. Liberal International condemns the whole process. A good mesure of the political motivations in this case is that many, like myself, were not allowed to even visit Dr. Ibrahim in jail, in spite of his poor health, when we were in Malaysia recently. This is a travesty of justice."
In 2013 Anwar Ibrahim's liberals dealt the incumbent party its biggest ever electoral blow when the PKR won the popular vote but missed out on forming a government due to the number of legislators elected. Since then a major scandal has surfaced concerning the illicit enrichment of the current prime minister Najib Razak in amounts totalling hundreds of millions of dollars stolen from a Malaysian government investment fund, as documented by a US Justice Department complaint filed recently in US Federal Court.
"The international community must see this verdict against Anwar for what it is: a political shot across the bows of the liberal-democratic opposition in Malaysia ahead of the elections in 2018. Liberal International and our global member parties are outraged by the mixture of corruption, disregard for the rule of law and political motivations that have landed Anwar, an innocent liberal politician, in jail. We will continue our fight for justice and we stand in solidarity with our Malaysian partners.", added the LI president.
Addressing reporters once the hearing had concluded, Mr. Anwar said simply and defiantly: "It is not the end of the road."
Coinciding with the verdict, PKR leader and daughter of the imprisoned liberal, Nurul Izzah Anwar MP, spoke to Quartz media, outlining her fight for justice in Malaysia. Facing arrest on charged of 'sedition', Ms. Anwar said: "When my father was arrested in 1998 it really gave me a sense of how sacred, how valuable, working democratic institutions can be."
In 2015 PKR president and Anwar's spouse, Dr. Waz Azizah Wan Ismail, addressed LI's 194th Executive Committee meeting in Zurich, Switzerland where she spoke of the plight of Anwar Ibrahim who was then suffering in custody without access to urgent medical attention. The 194th EC unanimously adopted a resolution on the struggle for justice in Malaysia.