You can be sued for forwarding a 'defamatory' text message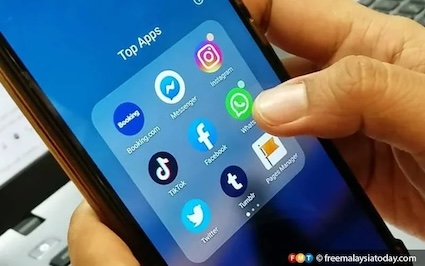 (FMT) – Earlier this month, the Kuala Lumpur High Court held two condominium unit owners in Puchong, Selangor, liable for defaming a housing developer.
Justice Nazlan Ghazali found that libellous statements about the developer posted by the duo in a chat group set up among the owners of condominium units in a housing development were sufficient to found an action in defamation.
Taking it a step further, FMT asked two lawyers whether a person can be sued for forwarding or posting a defamatory message authored by another person.
Where does the law draw the line? FMT takes a closer look.
Can a person be sued for forwarding a 'defamatory' message?
Lawyers Bastian Vendargon and Salim Bashir both agree that a person who forwards a "defamatory" statement, for instance via WhatsApp, or posts it on social media can be sued for defamation.
Salim told FMT that under defamation law, any person who publishes a defamatory statement to another person, whether by reposting or forwarding the libellous remarks, can be held liable for it.
"Every repetition, or republication of the defamatory matter is considered a fresh publication – like retweeting, reposting, and forwarding WhatsApp or text messages.
"If a post is made online, even though you are not the original publisher or author, there is a legal presumption under Section 114A (of the) Evidence Act that you published or re-published the post," said the former Malaysian Bar president.
Section 114A presumes, until the contrary is proved, that a person is the "publisher" of a libellous statement if his name, photograph or pseudonym appears on the published or re-published content.
Who can be sued for the libellous statement?
Vendargon says the person who is the subject of the offending message or posting may haul anyone who publishes or republishes it to court for the tort of defamation even if the statement was authored by someone else.
"Each separate publication or republication is actionable," he said.
In a 2012 case, former Shah Alam MP Khalid Samad successfully sued Aziz Isham, the editor of a publication, for defamation. Aziz had reproduced in full an article appearing on the blog of then Kulim-Bandar Baharu MP Zulkifli Noordin.
In that case, the High Court quoted the well-established principle set out in Gatley on Libel and Slander that "every republication of a libel is a new libel and each publisher is answerable for his act to the same extent as if the calumny originated with him."
The original article had portrayed Khalid as a person "capable of distorting verses from the Holy Quran for his own political ends".
That article was written about Khalid's attempt to resolve a dispute over the relocation of a Hindu temple in Section 23, Shah Alam, which had stirred up strong emotions among the residents there.
Likewise, in the case of Raja Shahrir Abu Bakar & Anor v Manjeet Singh Dhillion and other appeals (2019), the Court of Appeal held that every repost or share of a defamatory statement is actionable as a "new" publication.
Defences for republishing defamatory statements
Vendargon said the "limitless" arm of the law is why there is a need for caution before publication or republication.
"Attempts (must be made) to verify the truth and to seek the comments (of those involved)," he said.
Only then can the defences of qualified privilege or reportage be available to the makers of the statements, he added.
Qualified privilege typically applies in situations where there is a legitimate and socially important reason to communicate the information, even if it may damage someone's reputation.
Reportage, on the other hand, refers to instances where the reporting of defamatory statements serves public interest. The statements must be attributed to their maker, and must be fair and accurate.
Salim added that those sued for defamation may also raise the defence of justification. In order to succeed in this defence, they must show that the impugned statements are, in fact, true.