No need to negotiate, give equal allocations to opposition, says PKR MP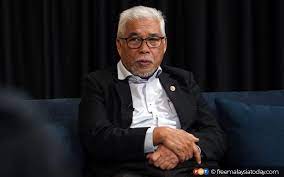 Pasir Gudang MP Hassan Karim says Prime Minister Anwar Ibrahim should act fairly or he may find his 'cry for justice' questioned on the international stage.
(FMT) – A PKR MP says the nation's heated politics can be cooled down if the opposition bloc was given equal allocations without the need for negotiations with the government.
Pasir Gudang MP Hassan Karim said Prime Minister Anwar Ibrahim, as a respected leader in the Islamic world, should act fairly, or else he may find his "cry for justice" questioned on the international stage.
"Don't politicise trivial matters, let's resolve this. Besides, these allocations are in the national budget, under (the purview of the) Prime Minister's Department, so what's the problem?
"(Anwar) talks about justice on the international stage, but issues like this (allocations) remain unresolved domestically.
"I believe our political climate will improve if there is justice. Not all MPs are wealthy, this right (to equal allocations) is to help support schools, mosques, NGOs and villages," he said in an interview on FMT's Enigma programme last night.
Hassan said there is no need for discussions or a memorandum of understanding with the opposition for them to obtain equal allocations.
On Sept 19, Anwar had said the opposition needed to negotiate with the government to obtain allocations, adding that a similar approach was taken in 2021.
Deputy prime minister Fadillah Yusof revealed that until now, opposition MPs have not submitted letters requesting allocations, despite the government's invitation for them to do so.
In April, PAS deputy president Tuan Ibrahim Tuan Man said the opposition will not submit a proposal to the federal government on allocations for opposition MPs.
He said it was Putrajaya's responsibility to channel allocations directly to opposition MPs, adding that they should not have to beg for the funds.
Last week, Bersatu's Kuala Kangsar MP Iskandar Dzulkarnain Abdul Khalid declared his support for Anwar's leadership, stating that he could not bear to see the voters in his area left behind and disadvantaged solely because of political differences.