PN U-turned on GE15 cooperation with BN, says Tok Mat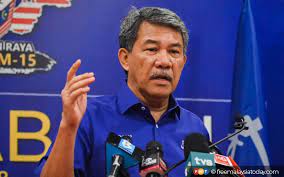 Perikatan Nasional reneged on a promise to collaborate with Barisan Nasional for the 15th general election (GE15), claims Umno deputy president Mohamad Hasan.
(FMT) – Mohamad claimed that he and Umno president Ahmad Zahid Hamidi met Perikatan Nasional chairman Muhyiddin Yassin and one of his deputies, whom he did not name, a month before Parliament was dissolved, where they agreed that both coalitions would work together for GE15.
"We said, 'Alhamdulillah'. But at the time, they requested for three days (to confirm the matter) as they wanted to hold a meeting (among PN leaders).
"After four days, they said they did not want to work with BN because Umno is a corrupt party.
"The actual reason? Because they saw that the Malays were no longer with (us)," the deputy BN chairman claimed in a livestreamed ceramah at Felda Chemomoi in Pelangai.
Mohamad, also known as Tok Mat, said this reflected PN's insincerity in uniting the ummah, an agenda which saw Umno and PAS sign the Muafakat Nasional charter in 2019.
He was in Felda Chemomoi to campaign for the BN candidate for the Pelangai by-election. BN's Amizar Abu Adam faces a three-cornered fight for the seat against PN's Kasim Samat and independent candidate Haslihelmy DM Zulhasli.
Mohamad also accused PN of failing the "first test" of uniting the ummah in the 2021 Melaka state election, claiming the Muhyiddin-led coalition was the one that decided not to work with BN for the state polls.
With 23 of 28 seats in Melaka being Malay-majority, he said a BN-PN alliance would have seen them record a massive win in the state.
BN was even willing to give five seats to PN though the latter had only asked for three seats initially, he claimed.
"But (they) did not want (to work with us) because there were numerous reports which said that BN would lose the (state election) or could only win 11 seats at most.
"That is why they left us, but we won big (in that state election)," added Mohamad, who is also the defence minister.
BN won 21 out of 28 state seats in the 2021 Melaka polls, while PN only won two.