Zahid's hold on Umno presidency still not safe despite DNAA, analysts say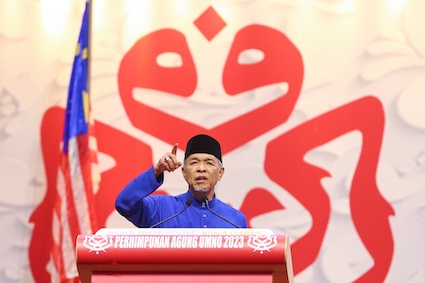 (MMO) – Datuk Seri Ahmad Zahid Hamidi's position as the Umno president is still not safe despite him getting a discharge not amounting to acquittal (DNAA) for all 47 charges involving Yayasan Akalbudi funds, according to political observers.
International Islamic University Malaysia's assistant professor of political science Syaza Shukri described Ahmad Zahid's conditional acquittal was a short-term boost as his rivals could still use his earlier prosecution to paint him as corrupt.
"He (Ahmad Zahid) can easily say that he hasn't been convicted so it is not fair to call him corrupt.
"But the fact that charges were initially brought is reason enough to reject him. Plus, DNAA is apparently to collect more evidence so it is not as if he is acquitted and innocent," she told Malay Mail.
Syaza also said that Ahmad Zahid's position has been fragile since he won the presidency and that the pressure on him continues to mount.
"It's just a matter of how long he can stay now," she added.
On September 4, Ahmad Zahid was granted a DNAA on all 47 of his corruption, criminal breach of trust (CBT), and money laundering charges involving his foundation, Yayasan Akalbudi. A DNAA means that an accused person can be charged again on the same charges.
Ahmad Zahid, who is also a deputy prime minister, was previously to step down as the Umno president and Barisan Nasional chairman after leading both to increasingly worse electoral performances, including the six state elections in August that saw his party losing heavily in the Malay heartland.
Nusantara Academy for Strategic Research (NASR) senior fellow Azmi Hassan said that Ahmad Zahid's position as the party president is only secure until the next party election.
"Without DNAA I guess it would change Ahmad Zahid's position in this case because even before the DNAA he refused to step down (from the party president post) and more so after DNAA.
"But again, his rivals can say that with the DNAA, he is still not clear with his corruption charges or not be found not guilty.
"If he was found not guilty, then I think Ahmad Zahid rival will be in a weaker position, but that's not the case here as the attorney general could still charge him (for the same offence)," he said.
Azmi said that Pakatan Harapan should help create a perception that Umno together with PKR and Amanah can defend the Malay rights as Umno is losing the Malay support purportedly due to the anger of voters towards Ahmad Zahid.
"This is akin to Selangor executive councillors' composition of seven Malay representatives," he said.
When asked whether pushing for a Cabinet reshuffle would be a good move to solve the ongoing problems faced by Umno, Azmi said it would be difficult as the Prime Minister Datuk Seri Anwar Ibrahim needed to satisfy 18 different entities that support him.
However, Universiti Malaya political analyst Mohammad Tawfik Yaakub believed that Ahmad Zahid's position as the Umno president is cemented after the DNAA.
"It is difficult to get rid of him from the party president post because of his position as the deputy prime minister, that not only has power but also respect.
"Whereas, his political rivals who do not have any position in the unity government, only seems to get weaker.
"The Malays can certainly reject Umno and Ahmad Zahid in the next general election, but they do not have the capacity to remove Ahmad Zahid as the party president," he said.
Mohammad Tawfik pointed out that Ahmad Zahid has placed many trusted people in the important position of the Umno hierarchy.
"However, the 16th general election is still a long way to go and various things can happen to Umno in between that can regenerate political energy to the party and restore their confidence," he said.
Mohammad Tawfik said that PH should push for a Cabinet reshuffle for Umno to heal and bounce back, which can include resting Ahmad Zahid from the Cabinet post.