Pew survey: Nearly nine in 10 Muslims back making Shariah code Malaysia's 'official law'
A whopping 86 per cent of Malaysian Muslims polled recently are in support of making the Shariah code the "official law" here or in other countries where they are the majority.
(MMO) – A survey by the Pew Research Center involving Malaysia and five other countries in Asia found that in comparison, just 64 per cent of Muslims polled in Indonesia felt the same way.
In Malaysia, Islam is stated in the Federal Constitution's Article 3 to be the "religion of the federation". Each state also enacts state laws that are binding on all Muslims within the state on matters such as Islamic family law and Shariah offences.
The same report also found that most of the Buddhists surveyed supported basing laws on religious doctrine with 43 per cent of those in Malaysia backing such an "official law" where they are the majority.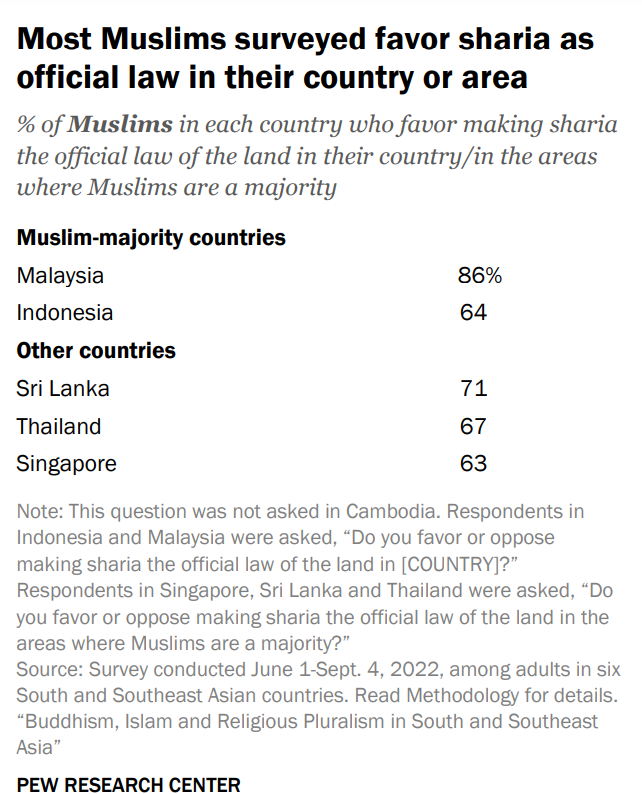 It also found that Muslims in Malaysia who pray daily were "moderately more likely" compared to others to want to base their country's laws on religious teachings, with the same observation seen among Buddhists in Sri Lanka and Thailand who pray every day.
This finding indicated no change from a similar survey in April 2013 titled "The World's Muslims: Religion, Politics and Society", where 86 per cent of Malaysian Muslims surveyed then had favoured "making Sharia law, or Islamic law, the official law of the land in our country".
Additionally, the survey also found that Malaysian respondents agreed with religious leaders actively participating in politics, with 58 per cent of Hindus and Muslims feeling so.
Muslims in Malaysia also topped the list in agreeing that religious leaders should join political protests (56 per cent) and "talk publicly about what politicians or political parties they support" (69 per cent).