Zahid's DNAA leaves PH grassroots leaders in Pulai stumped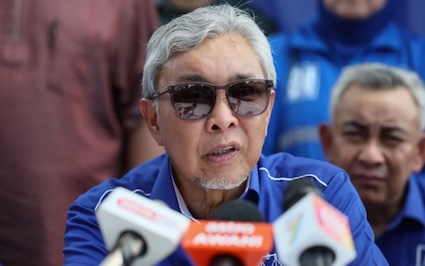 One who did not want to be named says many voters asked about the deputy prime minister's case.
(FMT) – The conditional discharge from corruption charges secured by Ahmad Zahid Hamidi has left Pakatan Harapan grassroots leaders stumped as to how to address the subject with the electorate here.
Speaking on condition of anonymity, a PKR grassroots leader said they are unsure how to respond to questions from the public surrounding the discharge not amounting to acquittal (DNAA) which brought the deputy prime minister's four-year trial to a halt on Monday.
"When we approach voters, the first question they ask is about the DNAA in Zahid's Yayasan Akalbudi case.
"When we say it was a decision of the court and that it had nothing to do with politics or politicians, they just don't seem to believe us," the source told FMT, adding that other grassroots leaders have shared similar sentiments.
The source also did not discount the possibility that non-Malay voters, who represent 48% of the 165,700 voters here, may boycott the polls this time around as they feel "cheated by PH".
"We can't blame them because during the general election campaign, we promised to put Zahid behind bars, but now the scenario has changed," the source said.
Zahid, who was accused of embezzling millions of ringgit from Yayasan Akalbudi and accepting bribes for various projects during his tenure as home minister between 2013 and 2018, was granted a DNAA on Monday on the application of the prosecution.
Meanwhile a grassroots leader from Amanah also expects a lower turnout on polling day, but mainly due to election fatigue.
"The people in Johor are tired of elections. We held two separate elections last year just months apart from each other – a state election and a general election."
The source also agreed that many non-Malays are unlikely to vote in the by-elections as they do not reside in Pulai.
"Close to 30% of voters, a majority of whom are non-Malays, reside outside Pulai, many of them in Singapore," the source said.
The Pulai parliamentary seat and the Simpang Jeram state assembly seat fell vacant following the death of Amanah deputy president Salahuddin Ayub in July.
PH's Suhaizan Kaiat faces Zulkifli Jaafar of Perikatan Nasional and independent candidate Samsudin Fauzi.