'It's due to prosecution flaw'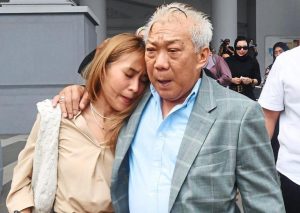 "The judge in his judgment has stated that I was acquitted and discharged due to the failure of the prosecution in proving the wrongdoings and two of their main witnesses had made U-turns"
(MSN News) – Kinabatangan MP Datuk Seri Bung Moktar Radin maintains that he was freed from corruption charges due to weaknesses in the prosecution's case and has nothing to do with any other political leader.
"It is not related at all, there is no reason that just because (Datuk Seri Dr) Ahmad Zahid Hamidi is discharged, and I must be acquitted too.
"The judge in his judgment has stated that I was acquitted and discharged due to the failure of the prosecution in proving the wrongdoings and two of their main witnesses had made U-turns," he told the reporters after leaving the courtroom here yesterday.
He said High Court judge Justice Azhar Abdul Hamid had done his utmost in hearing the case in the past five years.
On Monday, the High Court granted a discharge not amounting to an acquittal to Ahmad Zahid for all 47 graft charges involving Yayasan Akalbudi funds, stating that extended time was needed for investigation.
Earlier yesterday, Justice Azhar had allowed the revision application made by Bung Moktar and his wife Datin Seri Zizie Izette Abdul Samad to overturn a Sessions Court's decision asking the couple to enter defence in an RM2.8mil corruption case.
Bung Moktar looked calm while his wife, who donned an all-black attire, sobbed after hearing the court's decision.
"I'm thankful to Allah for the acquittal I received today. I'm also grateful to my team of lawyers for their hard work," he said.
He was also greeted by his supporters in the courtroom.
Justice Azhar said that it was a fit and proper case for the court to exercise its revisionary power under the Section 323 of the Criminal Procedure Code (CPC) to reverse the order by the lower court.