In verse, PKR man questions govt's values after Zahid discharge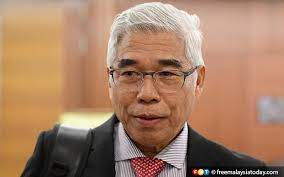 Without mentioning names, the Pasir Gudang MP asks how 'after a prima facie case was proven, corruption charges were dropped'.
(FMT) – Hassan Karim, the outspoken MP from PKR, has taken to verse to question the government's moral values following the conditional discharge granted earlier today to Umno president Ahmad Zahid Hamidi at his trial on corruption charges.
In a poem titled "DNAA", Hassan expressed his sorrow at the current state of affairs and said he had begun questioning whether the "noble struggle" he once believed in (a reference to the Reformasi campaign) was all in vain.
He said the government had harped on eliminating corruption and placed itself on a high moral ground. "Free of corruption, uphold integrity. We chant the reform slogan, but can the people believe all this now?" he said in a Facebook post.
Without mentioning names, Hassan, who is the Pasir Gudang MP, questioned how "after a prima facie case was proven, corruption charges were dropped".
"Where is the rule of law that is often talked about during the month of Merdeka," he said. "Is it true that the (Federal) Constitution is supreme? That there is no double standard in the interpretation of the law?"
The title of Hassan's poem is an obvious reference to the discharge not amounting to an acquittal granted to Zahid at his corruption trial today. Zahid had been making his defence to 47 charges of corruption, criminal breach of trust and money laundering.
The discharge was granted on application by the prosecution in view of representations made to the Attorney-General's Chambers and a new investigation by the Malaysian Anti-Corruption Commission.
However, the prosecution is at liberty to resume the case at any time or bring a new case based on similar facts and evidence from the present case.