"UMNO is not working with DAP, but with PH," Md Jais says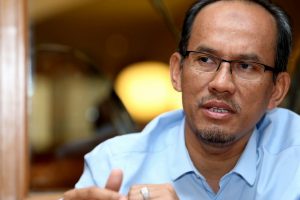 "Some asked earlier how long BN wants to work with DAP and PH. As long as they do not challenge Malay rights as well as the position of the Malay Rulers and that of Islam as the religion of the Federation, then we are in this together"
(Focus Malaysia) – MANY UMNO members are apparently still confused by the fact that the Malay-based party is not working with DAP but with Pakatan Harapan (PH) to form a unity government, said an UMNO leader.
Johor UMNO information chief Datuk Md Jais Sarday pointed out that it was this assumption that had caused many members to lose their trust in Barisan Nasional (BN), and that the situation was detrimental to the party.
"UMNO members must make themselves clear on the basis of establishing a unity government involving five coalitions, namely PH, BN, Warisan, Gabungan Parti Sarawak (GPS) and Gabungan Rakyat Sabah (GRS)," Md Jais was quoted as saying by Utusan Malaysia today (Sept 1).
"In the coalition, there are 19 parties including BN's component parties, namely MIC and MCA. The decision to cooperate with PH to form a unity government was not the decision of UMNO President, Datuk Seri Dr. Ahmad Zahid Hamidi, but that of the party's.
"The decision to form the unity coalition was made due to the fact no party obtained a simple majority during the 15th General Election (GE15), so we cannot say that we are working with DAP as that is not true.
"That is a narrative created by UMNO's enemies in order to undermine our members, which is why we must first understand the basis of this coalition."