"I will answer your lies one by one," Mat Sabu to Hadi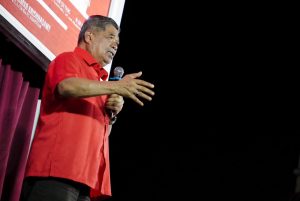 AMANAH president Datuk Seri Mohamad Sabu said he will refute the lies uttered by PAS president Tan Sri Abdul Hadi Awang in Simpang Jeram, Muar tonight (Aug 28). 
(Focus Malaysia) –  According to the Kota Raja MP, it was time for the people to know the truth behind PAS' decision to leave Pakatan Rakyat (PR) in 2015.
"On Saturday (Aug 26), PAS president 'shot' saying they left PR because DAP rejected hudud. I will not answer tonight, I will answer tomorrow night (Monday) in Simpang Jeram," Mohamad said at the Pulai Unity Talk in Nusa Bestari, Johor Bahru, last night (Aug 27).
"I will answer tomorrow night how the PAS president lied to the people. I will answer those lies one by one.
"I was not just an ordinary member (of the party), I was the former PAS deputy president. Don't hide behind your kopiah and lie to the people, no more."
Mohamad, also known as Mat Sabu, was commenting on Hadi's statement on Saturday (Aug 26) where he claimed that a few members and former party leaders left PAS and established Amanah because they were afraid of losing an election.
Hadi also described those who left PAS to join Amanah as being "faint-hearted" for leaving the Islamist party's struggle.
He claimed that it was DAP's alleged refusal to accept hudud law that had motivated PAS to initiate attempts to change the government during Pakatan Harapan's (PH) first stint in federal power after the 14th General Election (GE14) in 2018.
After GE14, former PAS leaders including the party's former deputy president Mohamad along with the late Datuk Seri Salahuddin Ayub, Datuk Seri Dr Mujahid Yusof Rawa and Khalid Samad were appointed as ministers.
Having said that, Mohamad further accused PAS and Perikatan Nasional (PN) of being willing to use Islam for their own benefit.
"For example, in Selangor, during the last state election, their campaign used the issue of religious schools and tahfiz being ordered to close. That issue made Malay voters trust them," the Agriculture and Food Security minister pointed out.
"However, the Selangor sultan ordered at that time that all religious schools that do not follow the rules and standards must be closed because they can create problems and they need to reform if they want to operate again.
"That issue caused PAS and PN to get temporary support. I am sure their lies cannot last for the next four years.
"The people will see this change. I am sure the people are not stupid and will support the unity government again."
On Aug 19, Amanah announced that Johor Amanah vice chairperson Suhaizan Kaiat will contest the Pulai parliamentary seat, while Nazri Abdul Rahman will stand for the Simpang Jeram state seat.
The two candidates were chosen by an election committee led by Amanah vice-president Adly Zahari, secretary-general Datuk Dr Hatta Ramli, vice-president Datuk Mahfuz Omar, and other division and state-level leaders.
The Election Commission (EC) has fixed polling day on September 9 and early voting is on September 5.
The two by-elections were called after Datuk Seri Salahuddin Ayub, who was the incumbent for both seats, died on July 23 due to a brain haemorrhage. He was 61.