Umno Youth, MCA slam use of PH logo on mock cheques for schools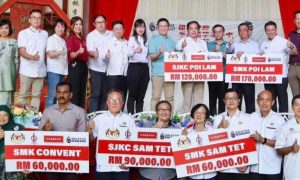 They call for an explanation on the source of the funds

.
(MalaysiaNow) – Umno Youth and MCA have taken DAP and Pakatan Harapan (PH) to task over a display of their party logos on mock cheques for government allocations to several schools in Perak.
Perak DAP leader Nga Kor Ming, who is also the local government development minister, had been seen in publicity photos handing over the mock cheques.
Umno Youth chief Dr Akmal Saleh condemned the use of party logos, urging Nga for an explanation on the source of the funds.
"Is this contribution from the government? And if it's from the government, what does the DAP logo have to do with the mock cheques?
"Don't be stupid when you become a minister," he said in a Facebook post.
Meanwhile, MCA deputy information chief Wong Siew Mun said Nga was politicising government allocations, adding that political parties could contribute separately to schools if they wished.
"A minister is a representative of the people," said Wong, adding that the display of party logos was to deceive the people into thinking that the money came from Nga or DAP.