Growing calls for Umno president Zahid to quit over party's poor showing in Malaysia state polls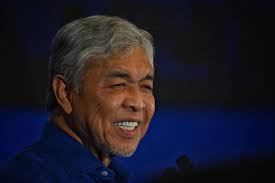 There are growing calls within Umno for Datuk Seri Zahid Hamidi to resign as party president and take responsibility for its disastrous showing at last Saturday's state elections.
(The Straits Times) – Leading the pack is former Terengganu menteri besar Idris Jusoh, who said Umno was wiped out in all seats across the state.
"Umno lost 100 per cent (of seats) in Terengganu. Ahmad Zahid should resign," he posted on Facebook on Sunday.
Former law minister Zaid Ibrahim also said Umno's dismal electoral performance reflects Dr Zahid's unpopularity as president and also members' rejection of the cooperation with Prime Minister Anwar Ibrahim and his coalition partner, the Democratic Action Party (DAP).
Datuk Seri Anwar's Pakatan Harapan (PH) coalition and Barisan Nasional (BN), of which Umno is the lynchpin party, are now allies in Malaysia's so-called unity government.
"Why is that so? It's a long story… For now, suffice for me to say that the country perhaps is ready to think about workable alternatives to the political alliances we currently have," said Datuk Zaid.
In last Saturday's poll, Umno failed to defend the 10 state seats it won in Terengganu in 2018, including seats held by former menteris besar, Datuk Seri Ahmad Said and Datuk Seri Ahmad Razif Abdul Rahman.
While Umno lost all seats in Terengganu, it won only one in Kelantan, two in Penang, two in Selangor, and 14 in Negeri Sembilan.
Federal Territories Umno youth chief Aliff Firdaus said Dr Zahid should take responsibility for the party's poor performance in the six state elections.
He said there should be an election for the party president and deputy president posts, as the two top positions were won uncontested in the party polls in 2023.
Datuk Aliff also said that reconciling with sacked or suspended Umno members such as former ministers Khairy Jamaluddin and Noh Omar, as well as former Umno youth leader Shahril Hamdan, was crucial.
However, Umno Youth permanent chairman Wan Agyl Wan Hassan said Dr Zahid should not be solely blamed.
"We should sit down and identify the issues faced by Umno in this new political landscape. We failed to put out a narrative convincing people regarding the cooperation between Umno and DAP," said Mr Wan Agyl.
Umno supreme council member Isham Jalil said DAP remains a sensitive subject with the Umno grassroots.
"If we force our grassroots to vote for DAP, they will protest and it is likely that they will abstain from voting. Or worse, they could vote for (opposition coalition) Perikatan Nasional (PN). This is what happened in the six states," he said.
According to Mr Isham, many PN candidates who are former Parti Keadilan Rakyat (PKR) leaders have garnered increased votes compared with 2018.
"This means that not just PKR supporters are backing them, but also Umno members. To chase 500 DAP votes, we lost 5,000 Malay votes in the process. If we lose our grassroots, the party will be dead," he added.
Mr Isham also said jailed leader Najib Razak's presence in the previous election campaigns is an advantage to Umno due to the former premier's popularity.
"I've also proposed to the government to allow house arrest for Najib while he is going through the pardon process, retrial, and among other others," added Mr Isham.