Caretaker K'tan MB's cousin sets up Pakatan camp outside his house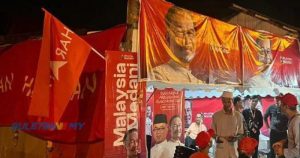 Family members face off in PAS stronghold Panchor
(The Vibes) – In what can only be described as a show of dissatisfaction, caretaker Kelantan deputy menteri besar Datuk Mohd Amar Nik Abdullah's cousin has taken to setting up a Pakatan Harapan (PH) post in the former's compound.
Muhamad Fekri Muhamad Yusoff, 62, put up a PH tent in Kg Panchor, a first for the PAS stronghold considering Amar himself is Panchor's incumbent and is attempting to defend the seat for the party in this Saturday's state election.
Fekri is also related to PH's Panchor candidate, 50-year-old Syed Mohd Alidustur Syed Mohd Zain.
What is even more unique is that in the same compound, there is also a PAS tent just a few metres away.
"I set up this tent on the same plot of land as Amar's house without anyone urging me to do so. Amar is my cousin and Alidustur is also a relative. This is considered family land," he said.