UTM's Perdana Policy Centre: Wrong for PM to use public choppers for poll campaigning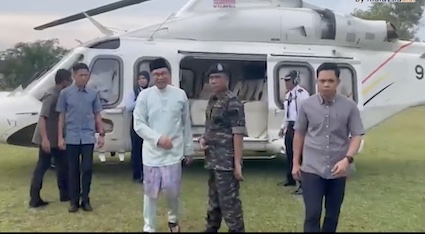 (Focus Malaysia) – THE recent brouhaha surrounding the use of government helicopters by Prime Minister Datuk Seri Anwar Ibrahim for election campaigns marks an abuse of government property which belongs to the rakyat.
Although political office holders may not be aware of such ruling, it remains a fact that the incurred expenditure remains sourced from taxpayers' money, according to Universiti Teknologi Malaysia's (UTM) Perdana Policy Centre's Associate Prof Dr Muhammad Fathi Yusof.
"Firstly, if (the abuser) were to be a civil servant, he/she would have long time subject to disciplinary action," penned Muhammad Fathi whose views appeared in today's HarakahDaily.
"Secondly, there must be a level playing field to ensure balanced competition as part of the principle of democratic elections. This is necessary for a clean and fair election. But it seems that PH-BN (the Pakatan Harapan-Barisan Nasional) alliance is using government machinery to win unfair advantage in the democratic competition."
Added Muhammad Fathi: "Thirdly, there was a mix of government programmes and party programmes with the former used for campaign purposes. Government officials are deployed to make it happen while government spending is also used. Even in the FELDA programme, it was reported that participants were transported by at least 20 buses.
"Fourthly, prior to becoming PM, Anwar has promised not to use government assets for campaigning. But that changed after he became PM."
The academician was commenting on certain quarters who defended Anwar over his action of using a helicopter to fly him to Kedah recently. Even the PH chairman defended his own action by taking a pot shot as caretaker Kedah menteri besar Datuk Seri Muhammad Sanusi Md Nor:
"The chopper belongs to the government, hence why must you be hurt? It's the governments, not mine, so you can't use it. Only the PM can use it!"
To answer the question whether it was right or wrong for Anwar to use the helicopter, Muhammad Fathi re-visited four of Anwar's purpose of stopping over in Kedah on the particular Friday evening (Aug 4).