Selangor PAS secretary accuses state Speaker of blocking unilateral conversion of minors to Islam Bill, overriding Mais' approval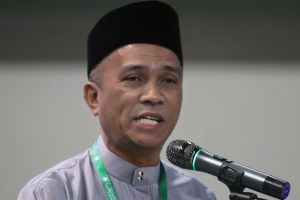 "How dare he block matters involving Muslims, what does it have to do with him?"
(MMO) – Selangor PAS secretary Roslan Shahir Mohd Shahir revived debate over a controversial state Bill to enable the unilateral conversion of underaged children to Islam on the state election campaign last night.
Roslan claimed the Bill would have sailed through the state assembly in 2019 if not for incumbent Sekinchan assemblyman Ng Suee Lim from DAP who was also the state assembly Speaker then, news portal Malaysiakini reported today.
He claimed that Ng had blocked the proposed amendment to change the Selangor Enactment stating that those below 18 years of age must obtain the consent of their "mother and father" instead of just the "mother or father" to become Muslim.
"From my understanding from our assemblymen, this issue has been briefed to all assemblymen, meaning that the superior levels of Selangor Islamic Religious Council (Mais) has approved.
"But when it came to the state assembly sitting, it was rejected, no discussion at all. Why? Because the speaker is from DAP, that one assemblyman from Sekinchan whom we want to defeat," Roslan was quoted as saying during a forum last night to endorse Nurul Syazwani Noh — the daughter of former Selangor Umno chief Tan Sri Noh Omar — as the Perikatan Nasional (PN) Permatang candidate.
Roslan reportedly said the Bill was prompted by concerns that children who became Muslim would not grow up with the religion or in an Islamic society once the non-Muslim parent had their custody.
"How dare he block matters involving Muslims, what does it have to do with him?" Roslan was quoted as saying.