Go to court with your 'evidence', Sanusi tells Saifuddin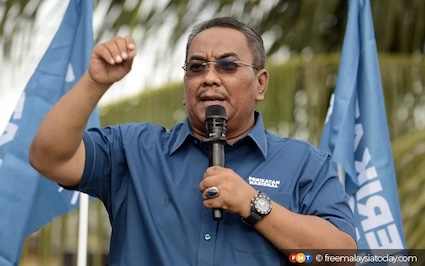 This follows the home minister's claim that he has pictures of Sanusi Nor visiting a mining site where rare earth elements were allegedly being extracted.
(FMT) – Caretaker Kedah menteri besar Sanusi Nor has told home minister Saifuddin Nasution Ismail to provide evidence in court regarding his recent allegations about rare earth elements (REE).
Sanusi said that thus far, the Pakatan Harapan secretary-general has not provided any solid evidence to back up his claims, which the Perikatan Nasional election director alleged were merely being used as campaign material ahead of the Aug 12 state polls.
"He is not showing evidence, he is constructing a narrative … a perception. There is no evidence at all," Sanusi said, according to Sinar Harian.
"Bring the evidence to court if you really have a case (against me)."
He said there was no need to produce them on the campaign trail for the state polls as "that is not the right way".
"I have never done such a thing," he added during a press conference in Sungai Petani.
Earlier today, Saifuddin claimed he had pictures of Sanusi, who was then the Kedah menteri besar, visiting a mining site where REE were allegedly being extracted.
In a Sinar Harian report, Saifuddin produced the pictures during a press conference in Kubang Pasu, claiming they were taken on Feb 19 in the Bukit Enggang forest reserve in Sik.
The minister claimed this proved Sanusi was aware of the alleged REE theft in Kedah but did not act on it.
Earlier this week, Saifuddin produced a photograph of Sanusi with a Chinese national he claimed was brought in by Kedah Menteri Besar Incorporated (Kedah MBI) to mine REE.
Saifuddin also produced a letter purportedly signed by Kedah MBI CEO Sobri Osman which named two Chinese nationals.
In response, Sanusi said one of the Chinese nationals had dealings with Kedah MBI and an agreement to extract REE before he took office.
Sanusi then claimed Prime Minister Anwar Ibrahim once introduced an Indonesian tycoon to the prospect of mining REE in Kedah, adding that Anwar and the tycoon had visited Kedah a few weeks before the state assembly was dissolved.