Ex-DAP man running in Perai, states support for Chow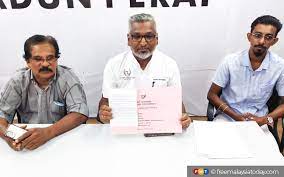 David Marshel claims DAP chairman Lim Guan Eng wants to take the Penang chief minister's post.
(FMT) – Former Seberang Perai city councillor David Marshel will be contesting for the Perai seat as an independent candidate, but stated his support for Chow Kon Yeow to be the next Penang chief minister.
Marshel, who quit DAP yesterday, said the main reason he was throwing his hat into the ring to clash against his former party was to ensure Chow would remain in the top state post.
He claimed that DAP chairman Lim Guan Eng wants to take the chief minister's post, despite stating his support for Chow repeatedly.
FMT has reached out to Lim for comment.
At a press conference today, Marshel predicted that Lim will vie for the Penang DAP chief's post when the state chapter holds its elections next year.
After the Penang DAP polls, he said, Lim would move to table a motion in the state assembly to amend the term limit for the chief ministership from two to four terms.
Lim has already served as Penang chief minister for two terms, from 2008 to 2018.
Meanwhile, Marshel claimed DAP did not field him for the state election as he was aligned with Chow, rubbishing claims it was due to the fact that several police reports had been filed against him in the past.
He said the reports were lodged against him as he was actively championing various causes.
Ramasamy had represented Perai for three consecutive terms since 2008. However, DAP decided not to nominate him again to defend the seat.
Instead, the party named S Sundarajoo, a former chief operating officer of EcoWorld Development Sdn Bhd who was in the property industry for more than 31 years.