Ex-BNM governor Zeti Akhtar's explosive statement on Najib's 1MDB trial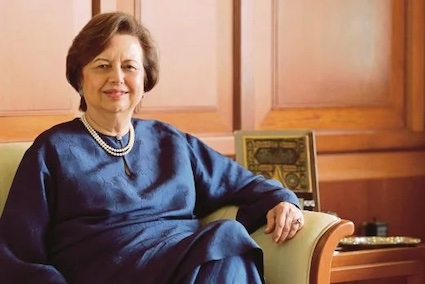 The former BNM governor also refuted claims that her family had received any benefit from 1MDB.
(The Sun Daily) – Former Bank Negara Malaysia (BNM) governor Tan Sri Zeti Akhtar Aziz revealed how the central bank was uninformed over the transfer of US$700 million from the 1Malaysia Development Berhad (1MDB) account into a private company owned by fugitive businessman Low Taek Jho.
According to a New Straits Times (NST) report, BNM sent a letter to former Prime Minister Datuk Seri Najib Razak who was then finance minister to warm him of the increasing debt levels, the repayment challenges faced by 1MDB which had subsequently led to the restructuring of a loan from the domestic banks.
"In the said letter, BNM had also urged Najib to increase the transparency around 1MDB's debt and operations, and to contain any further increase in its debt levels.
"On Jan 16, 2015, BNM had written again to Najib regarding its concern on 1MDB and to document the significant potential implications it would have on the government's fiscal position.
"BNM highlighted that in such an event, it could result in the immediate crystallisation of an equivalent of RM16.6 billion in contingent obligations of the government arising from the explicit guarantees that had been provided for the 1MDB's debt.
"These are Government Guarantee debt which are obligations of the government that must be met. In addition, there could be a possible consequent downgrading of Malaysia's sovereign rating," Zeti told the High Court today (July 27).
The former BNM governor said the central bank had no knowledge that funds meant for 1MBD investment had been remitted into accounts that were not related to 1MDB's investment declaration.
"BNM received disclosure on a confidential basis on March 13, 2015, involving a foreign entity that had transferred a major sum of funds to an entity in their jurisdiction that was beneficially owned by Low.
"I on behalf of BNM had on March 19, 2015, met the then Inspector General of Police (IGP) Tan Sri Khalid Abu Bakar to disclose this information to him.
"BNM, being a member of Egmont Group of Financial Intelligence Units (FIU), is bound by the Egmont Group Principles for Information Exchange to protect the confidentiality of information in accordance with international standards and protocols," she added.
On March 20, 2015, it was further reported that BNM continued its on-site examinations on AmBank and Deutsche Bank Malaysia Berhad (DBMB) in order to verify an allegation that the sovereign wealth fund had transferred US$700 million out of the USD1 billion of funds to a private-owned company.
Zeti added that the monies was designated for the acquisition of 40 per cent of the shares in 1MDB Petrosaudi Limited, British Virgin Island (JV Co.), as well as other 1MDB funds to the account of Good Star Limited (GSL) instead of the account of the JV Co.
"Following the approval for the remittances of funds for the said investment, a sum of US$700 million from the said funds was instead remitted by 1MDB to the account of Good Star Limited (GSL) through Deutsche Bank.
"It was only during the on-site examination, that it was validated that the funds had been remitted to Good Star Limited, the beneficial owner of which was Low," she was quoted saying by the NST online.
She also said in court that she had met with then Malaysian Anti-Corruption Commission (MACC) chief commissioner Tan Sri Abu Kassim Mohamed to disclose the finding.
Zeti also refuted claims that her family had received any benefit from 1MDB.
She said this to Deputy Public Prosecutor Ahmad Akram Gharib when testifying as the 46th prosecution witness in Najib's trial for allegedly misappropriating millions of funds belonging to 1MDB.