Ex-AG Apandi refused to charge 1MDB officers, Zeti tells court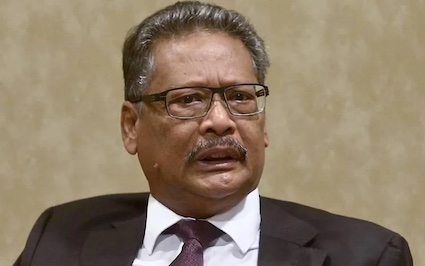 The former Bank Negara Malaysia governor admits that BNM was initially unaware about what was going on but after finding out, it presented evidence and urged the attorney-general to act.
(FMT) – Former Bank Negara Malaysia governor Zeti Akhtar Aziz told the Najib Razak 1MDB trial that BNM had urged the then attorney-general (AG) to prosecute officers of the company but that this was not done.
Initially, she said BNM did not know about the movement of funds to entities unrelated to 1MDB but following a tip-off, BNM investigated and submitted investigation papers (IP) to the then AG Apandi Ali.
Zeti said BNM had suggested that the AG charge senior officers of 1MDB under the Exchange Control Act for furnishing false information to the central bank in the company's application for permission to make payments outside Malaysia.
"Despite all the damning evidence gathered and recorded by BNM in the IP, the then AG's Chambers (AGC), for reasons unknown, had on Sept 11, 2015 said that the IP was to be classified as 'no further action' (NFA)."
Zeti said she had pleaded with the AGC to reconsider the NFA status, but said that she never got a response.
She told the court the central bank did not know funds from the company were transferred to accounts of entities unrelated to them. She said BNM was also initially in the dark about funds in Najib's account coming from 1MDB.
Zeti added that BNM received a tip-off on March 13, 2015 informing it that a large sum of 1MDB funds was remitted into the accounts of a firm (Good Star Ltd) owned by businessman Low Taek Jho or Jho Low.
"Based on the information received, I met the then inspector-general of police (IGP) Khalid Abu Bakar at my office on March 20 that year and disclosed this information to him," she testified.
Zeti also told the court that BNM's investigation officers conducted checks at AmBank and Deutsche Bank Malaysia Bhd to verify whether a sum of US$700 million from 1MDB's US$1 billion was moved to Low's Good Star Ltd.
1MDB had in 2009 entered into a joint venture with PetroSaudi International, or PSI, and under the contract terms, 1MDB needed to fork out US$1 billion for the venture.
The US$1 billion was supposed to be deposited into the 1MDB-PSI joint venture account but only US$300 million was moved into this account.
Zeti said BNM had granted approval to 1MDB to remit the US$1 billion for the purpose of the joint venture.
"1MDB had represented to BNM that there was an agreement between 1MDB and Petrosaudi and that it was a government-to-government agreement.
"The approval that BNM had granted was strictly and solely for the said funds to be remitted to Petrosaudi for the purchase of 40% of the shares."
However, Zeti said, checks by BNM officers at AmBank and Deutsche Bank showed that US$700 million had been transferred to Low's Good Star.
The hearing continues before Justice Collin Lawrence Sequerah.
Najib is standing trial on 25 charges of abuse of power and money laundering over alleged 1MDB funds amounting to RM2.28 billion deposited into his AmBank accounts between February 2011 and December 2014.