Amanah's Khalid declares Umno the best Malay party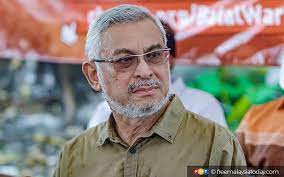 Amanah's Khalid Samad, who had in the past been critical of Umno, this evening declared that it was the best among  three Malay political parties in the country.
(FMT) – Khalid, who is Amanah communications director, said that Umno shared the same ideals as Pakatan Harapan when it came to politics, namely to solve issues affecting the people.
"There are three political parties that truly represent the interest of the Malays. Of the three, we can see that Umno is the best.
"Because they understand politics," the former minister said during a PH ceramah in Shah Alam.
However, he did not name the other two Malay-based parties, although he took jabs at PAS and Bersatu.
Khalid had earlier this year earned the ire of Umno after he called for former Umno president Najib Razak's pardon application to be rejected.
His remarks led to Kelantan Umno threatening to cut ties with Amanah in the state polls. Khalid is Kelantan Amanah chief.
Khalid also lambasted Bersatu in his speech, accusing it of treachery. He cited the time the party's president Muhyiddin Yassin declared an emergency and suspended Parliament during the Covid-19 pandemic.
"What good came out of it? We could not conduct check and balance (on the government), we could not determine if what (the government) was doing was good for us.
"(We) were not allowed to debate, (we) were told to stay at home because of the movement control order."
He also took a swipe at PAS, saying the Islamic party had lost its way.
"Their icon used to be (the late PAS spiritual adviser) Nik Aziz Nik Mat, now it's Sanusi Nor. Just by comparing the two, we can see how far they have strayed from their path."