Anwar supports use of Sedition Act on Sanusi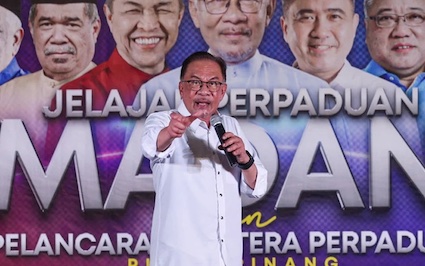 (The Star) – The use of the Sedition Act against caretaker Kedah Mentri Besar Datuk Seri Muhammad Sanusi Md Nor is justified as the case involved the dignity of the royal institution, says Datuk Seri Anwar Ibrahim.
"In principle, we avoid using the Sedition Act but in this (case), it touches the position of the Rulers. When criticising the Prime Minister, I have never used it as an excuse.
"But in terms of the position and dignity of the Rulers, we have to respect and uphold (them), to prevent (them) from becoming unhealthy political discourse,'' the Prime Minister said.
Anwar also said it was members of the Selangor Royal Council who lodged the police report.
"What was His Royal Highness the Sultan of Selangor's comment yesterday? That the case is not settled," he said.
To a question over Sanusi's arrest in the wee hours of the morning, Anwar said there was a need to ask about the process.
"From what I know, the police monitored and searched, and when they found, they arrested," the Prime Minister said, adding that everyone must respect the legal process.
Sanusi, who is incumbent Jenari assemblyman, claimed trial to two counts of sedition under the Act at the Selayang Sessions Court yesterday.
He was detained and charged over a political speech in Taman Selayang Mutiara on July 11, in which he questioned Selangor Ruler Sultan Sharafuddin Idris Shah's decision to appoint Datuk Seri Amirudin Shari as the Selangor Mentri Besar.