Anwar defends 'principled' Zahid, calls DAP 'part of our family'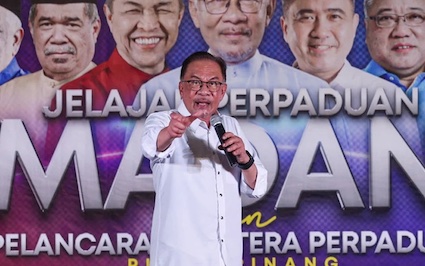 The prime minister says Perikatan Nasional leaders detest Zahid because he stands by his 'principles' and refuses to work with them.
(FMT) – Prime Minister Anwar Ibrahim has defended Barisan Nasional chairman Ahmad Zahid Hamidi for being "principled" by opting to work with Pakatan Harapan and DAP, calling the party "part of our family".
Anwar said Perikatan Nasional detested Zahid not because of the court cases he was facing, but because Zahid was brave in making decisions and stood true to his principles.
"(He was) sick with the false promises made by Bersatu and PAS and said that (BN) would work with those who were equally principled, and those who defend good governance, the people and the Federal Constitution," Anwar told a huge crowd the "Ceramah Madani" at the Seberang Jaya expo ground yesterday.
"That is why they (hate) Zahid. I want Penangites to know that his courage in taking up risks, despite the fact that there was a group that was uneasy with it, is the reason why we have a stable government today. I thank and salute you, Zahid."
The Pakatan Harapan chairman also recalled how he was chastised by PAS members over his affiliation with DAP, and how PKR Wanita chief Fadhlina Sidek was allegedly called a "barua DAP" (DAP stooge) during an event in Relau.
"DAP (members) are humans, too. Don't insult them. We can fight over differences on a few things.
"But (PN) insulted DAP by calling it communist, (when it) was okay with Gerakan that opposed hudud and Jawi writing.
"I would like to tell (DAP secretary-general) Loke Siew Fook, you are a member of our family. No worries, no apologies. This (Malaysia) is your land, you can go to any village, any town, and we will continue to support you whenever a DAP candidate is contesting," he said.
He also said none of his Cabinet ministers had been linked to corruption cases, eight months after the formation of the unity government, which was a "record in the nation's history".
Penang unity coalition launched
Earlier, Anwar launched the PH-BN unity coalition which will contest the Penang state election as a single bloc.
Penang and five other states – Kedah, Kelantan, Terengganu, Selangor and Negeri Sembilan – will go to the polls on Aug 12.
The total number of seats to be contested by PH and BN has yet to be finalised.