Labelling them 'Malayan extremists', Tuaran MP accuses Dr Mahathir, Hadi Awang, and Sanusi of trying to revert Malaysia to Tanah Melayu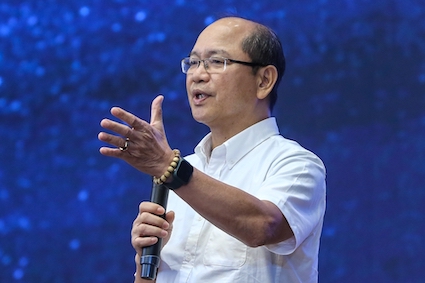 (MMO) – A Sabahan leader has today labelled Tun Dr Mahathir Mohamad, Tan Sri Abdul Hadi Awang and Datuk Muhammad Sanusi Md Nor as "Malayan extremists" who are trying to revert Malaysia back to the mono-ethnic, pre-colonial Tanah Melayu.
In a statement, Tuaran MP Datuk Seri Wilfred Madius Tangau accused the trio of wishing that the country has none of its modern Federal Constitution and common laws, in addition to the non-existence of Penang as a state.
"We must stare into the stark reality that the deepest political divide in Malaysia today is not one of Malay-Muslims versus non-Muslims, neither one of Malaya versus Borneo, but between two 'nations of intent': a multiethnic, multifaith post-colonial Malaysia versus a monoethnic, mono religious pre-colonial Tanah Melayu," he said, citing Distinguished Professor Shamsul Amri Baharuddin.
"The multiethnic and multifaith Malaysia has been here since 1963 but also constantly eroded since 1963. The mono-ethnic and mono-faith Tanah Melayu Dr Mahathir, Hadi and Sanusi aspire to is still a political aspiration but will be a reality if enough of us give up on Malaysia."
In 1963, the Federation of Malaya, Singapore, Sabah (then North Borneo) and Sarawak came together to form the Federation of Malaysia. Singapore separated from the federation two years later in 1965.
In the scathing statement, Tangau attacked former prime minister Dr Mahathir for treating Malaysia as an "expansion of Tanah Melayu", and Sabah and Sarawak as just "colonial possessions" to be transferred from London to Kuala Lumpur.
He also said that Sabah and Sarawak would not be spared from them as they would milk the resource-rich Bornean states and apply divide-and-rule tactics like Dr Mahathir had allegedly used in the past two decades.
Tangau also accused Abdul Hadi, who is the president of Islamist party PAS, of attacking the fundamental idea of Malaysia; while Kedah PAS chief and caretaker menteri besar Sanusi was accused of disrespecting the state border between his state and Penang.
"Malaysia is a multi-ethnic postcolonial country. The single most important commonality between Sabah and Perlis, or Sarawak and Kelantan, is our colonial legacy. We were ruled by the British and we inherited their political and legal systems," he wrote.
"Independence, for most Malaysians, is that we now live as the master of our destiny in this land. Maintaining those British colonial legacies we consider positive — from constitutional monarchy, a liberal constitution, parliamentary democracy, common law, bureaucracy, to English literacy — for our own benefit does not make us colonised."
Tangau urged Sabahans and Sarawakians to not be bystanders amid the stoking of racial and religious sentiments in Peninsular Malaysia, but instead ally themselves with those who do not wish for a mono-ethnic country.
"Together, all of us are still the majority that can keep Malaysia inclusive and moderate," he added, saying Malaysians must continue to keep the country secular, free and fair.
"To keep Kota Kinabalu and Kuching free, we must keep Putrajaya out of reach from Malayan colonialists and imperialists like Dr Mahathir, Hadi and Sanusi," he said.
"We Borneans must bury Borneo exceptionalism and isolationism. Instead, we must actively and passionately protect and reshape Malaysia, to bring to life the original multiethnic, multifaith and liberal federation our foreparents signed up to in 1963," he said.
Dr Mahathir, Abdul Hadi and Sanusi were among the politicians currently being investigated for stoking racial flames with their remarks ahead of the six state elections next month.
Among others, Dr Mahathir has insisted that Malaysia is inherently Malay rather than multi-ethnic, Abdul Hadi has insisted on Malay political supremacy, while Sanusi has denied the legitimacy of Penang.