'I'm ready to face anyone who wishes to topple me', says Anwar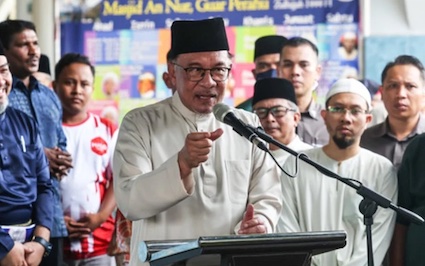 (The Star) – Criticised for going all out to fight corruption, Prime Minister Datuk Seri Anwar Ibrahim has vowed to face anyone who wished to have him toppled.
Addressing state civil servants at the MBS hall here, Anwar said he had to take a hard line on corruption because it has become a serious problem.
"Some have criticised me for going all out to fight corruption.
"I have to be hard on this because corruption has become a serious problem and we have lost tens of billions of ringgit.
"We cannot allow those who have stolen the money to think that nothing will happen (to them) and they are safe," he said, adding that he was prepared to face anyone who wished to have him toppled.
"If this group of thieves (penyakau) who have billions (of ringgit) decide to get together to topple me, I will fight them till the end," he said.
Anwar said some of his critics had also poked fun at his decision not to take a salary as Prime Minister.
"I do not take my salary as unlike them, I have a conscience. I still get a house, a car and bodyguards, and I will continue to focus on my work to revitalise the economy," he said, expressing his happiness over the country registering a 5.6% GDP growth in the first quarter of the year, which was higher than Singapore, Indonesia and China.
Anwar said the unity government was bent on putting an end to corruption although those opposed to this would use their "riches, experience and influence" in order to continue to benefit.
He cited the example of those who used to easily secure government contracts without going through the tender process as not being too happy with his administration.
Anwar said he had instructed agencies such as the police, the Inland Revenue Board, Bank Negara Malaysia and the Malaysian Anti-Corruption Commission to probe anyone suspected of being involved in corruption.
"I did not tell them to act against anyone in particular and that they should be professional when doing this.
"They need not worry about one's position or status. One can either be a Tun or a Tan Sri but if you are suspected to be involved (in corrupt practices), we can't just let you go.
"This is not going to be easy but we have to do something to correct it," he said, adding that his administration had managed to save RM1.8bil of the RM15bil initially allocated for flood mitigation projects after a tender process was carried out.
On another matter, Anwar said an additional RM200mil had been approved to repair and upgrade the living quarters for Armed Forces personnel.
He said this was necessary as some of these units had been in a dilapidated condition for a long time.
"Recently, Mat Hasan (Defence Minister Datuk Seri Mohamad Hasan) briefed me on the poor conditions of these quarters.
"I immediately approved a RM200mil allocation for this year to get the repairs done," he said, adding that the money would be disbursed through the Engineering Corp of the Armed Forces so that work could start immediately.
"This sum is in addition to what I had announced during the Budget.
"It will be cheaper to get the engineering corp to do it and would not require a new contract," he said, adding that he would also raise the need to review the salary of civil servants at next week's Cabinet meeting.
He said this was necessary as the last review was carried out in 2013.