Najib supporters still back unity govt but grow impatient, says daughter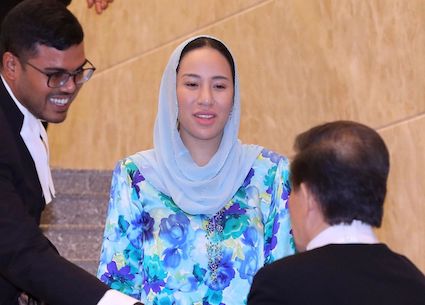 (The Star) – Supporters of Datuk Seri Najib Razak are still supporting Umno and the unity government, says his daughter Nooryana Najwa.
However, Nooryana said that Najib's supporters want more concrete efforts by the government towards upholding justice for the former premier.
Nooryana also claimed that many Najib supporters, who form the majority of Barisan Nasional members, were growing increasingly impatient.
"In fact, it is not easy to persuade them anymore," Nooryana said on Thursday (July 6).
Nooryana said many Najib supporters were unhappy as the former premier continued to be burdened by new cases and disputes.
According to Nooryana, among the new cases were the Inland Revenue Board (LHDN) case where there is a dispute involving RM1.7bil in outstanding taxes and penalties, the RM114mil seized from a condominium in 2018, and several civil suits linked with 1MDB.
"All of this is putting pressure on Najib who is currently being incarcerated," added Nooryana.
Nooryana's statement came following Umno president Datuk Seri Dr Ahmad Zahid Hamidi's remarks on Thursday (July 6), who urged Najib supporters to back the unity government in the coming state polls.
Ahmad Zahid said Najib has declared support for the current administration and there is no reason why his supporters should not support the government.
"Najib conveyed through his children that support must be given to the government," said Ahmad Zahid during a press conference on July 6.
Ahmad Zahid also said that it is important to separate legal issues with the upcoming six state polls, adding that there should be no reason for people to think that there are no efforts to seek justice for Najib.
Najib is currently serving a 12-year jail sentence.
The six state polls in Kelantan, Terengganu, Kedah, Negri Sembilan, Selangor and Penang will take place on Aug 12.