BN to contest 110 seats in state polls, says Zahid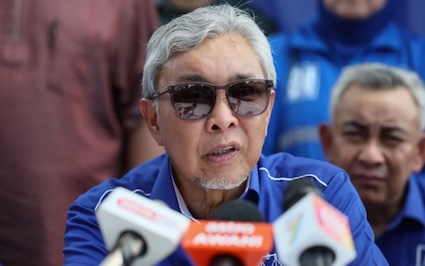 Barisan Nasional chairman Ahmad Zahid Hamidi says the distribution of seats was based on the outcome of previous elections.
(FMT) – Barisan Nasional is expected to contest 45%, or about 110 seats, of the 245 seats that will be contested in the impending six state elections, says Ahmad Zahid Hamidi.
The BN chairman said the distribution of seats between the coalition and their unity government ally Pakatan Harapan was made based on their respective performances at previous elections, Bernama reported.
"The percentage (of seats contested) is higher for PH's component parties because PH won more (state) seats in the 14th general election (GE14)," he was quoted as saying.
"We will announce the actual statistics upon confirmation of the final decision."
The breakdown of the seats up for grabs in the six states are as follows – Selangor with 56 seats, Kelantan (45), Penang (40), Kedah (36), Negeri Sembilan (36) and Terengganu (32).
Zahid said he will have a final discussion on the seat distribution with PH chairman Anwar Ibrahim next week.
The Umno president added that BN and PH had resolved all overlapping claims for seats between the two coalitions.
He said after the seat distribution is finalised, the two coalitions would then select the candidates to contest in the polls.
The two coalitions will launch their election machinery in Selangor first, on July 7, followed by the other five states.
Zahid urged voters to make a "wise choice" when casting their ballots at the polls, advising them not to fall prey to Perikatan Nasional's (PN) "political ploy".
He said unlike the opposition coalition, BN was focused on uplifting the welfare of the people.
"We've been focused on development (for the benefit of the people), whereas they (PN) focus on the politics of deception," he said.