The 'corrupt' are conspiring against me, says Anwar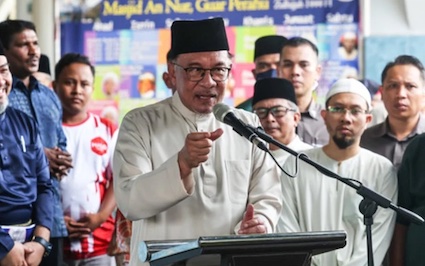 Prime Minister Anwar Ibrahim says his fight against corruption has been met by resistance from those who have plundered 'billions' from the country.
(FMT) – Prime Minister Anwar Ibrahim claims "wealthy people" who have plundered billions of ringgit from the country are conspiring against him as he intensifies his battle against corruption.
"Times are tough and we need to rid our country of corruption," he said in a speech at the Guar Perahu Mosque here.
"I have received all sorts of threats. These rich people who have stolen billions (of ringgit) are now ganging up (on me). (But) I will carry on fighting (corruption)."
Anwar also said he was willing to be investigated by the relevant authorities if he was suspected to be involved in corruption.
"If I'm suspected of being involved in corruption, amassing money to enrich Wan Azizah (his wife), Nurul Izzah and my other children, report it (to the authorities)."
Anwar said he had never directed the Malaysian Anti-Corruption Commission (MACC) to investigate individuals involved in corruption.
"If anyone is being investigated by MACC, that's MACC doing its job. I did not order it," he said.
On the various claims that have been made about his administration, he called on the public to understand the difference between slander and political attacks.
He said among the false allegations he has faced include Islam being affected under his administration, a lack of foreign direct investments and that the government had signed off the country's interests in a resource-rich maritime area in the Sulawesi Sea known as Ambalat.
"There are all sorts of slander being spewed. The people can listen to them, but they must analyse them fairly," Anwar said.
"I may have my weaknesses, but (people) should not resort to slander."