Don't be apologetic in your fight for Malay, Islam, Bumi issues: Zahid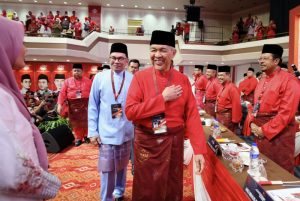 PAS had previously given its approval to the usage of the word "Allah" by non-Muslims when it was political comrades with DAP under the then opposition coalition, Pakatan Rakyat. 
(The Vibes) – Umno members need not be contrite when voicing out on pertinent issues in defence of Malay, Bumiputera and Islamic rights, said party president Datuk Seri Ahmad Zahid Hamidi.
Addressing delegates at the 2023 Umno general assembly today, the deputy prime minister asserted that despite accusations from rival parties, the Barisan Nasional linchpin has never strayed from its principles of fighting for the Malay Muslim community.
"Efforts to empower and implement Islamic values, while respecting the freedom of believers of other religions, remain part of our agenda as part of the unity government.
"There is no need (for Umno members) to feel apologetic when addressing Islam, Malay and Bumiputera issues because we have never sidelined the rights and interests of other races in our nation," he said.
Pointing to Umno's stance objecting to the usage of the word "Allah" by non-Muslims, Zahid said that the party's outlook on the matter has remained steadfast, unlike "political chameleons" who utilise the religion for their own benefits.