At Umno assembly, party's ambivalence over new allies set to be on display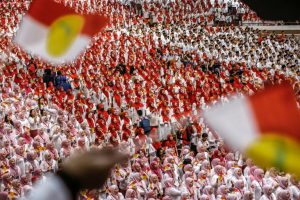 "The idea hasn't sunk in with the grassroots, most of whom still harbour misconceptions of DAP being an anti-Malay and socialist party. To the party grassroots, DAP is also a purveyor of liberal Islam — a notion abhorrent to conservative Malay-Muslims in general," he added.
(MMO) – Umno members' struggle to accept their sudden partners will be palpable at its 2023 general assembly today, with analysts predicting friction from sections of the grassroots that have not warmed to life in Prime Minister Datuk Seri Anwar Ibrahim's national unity government.
Despite over six months as a key member of Anwar's administration, they said Umno has not fully convinced its grassroots about the partnership with former rivals in Pakatan Harapan, particularly DAP, after the 15th general election.
The party will be under pressure to resolve this issue during the assembly, along with signalling to its members and the Malay-Muslim community at large that Umno remained fully committed to protecting their interests, especially heading into six crucial state elections expected by August.
Umno secretary-general Datuk Asyraf Wajdi Dusuki confirmed that Anwar and other PH leaders were invited to the assembly, but Universiti Sains Malaysia's political science professor Ahmad Fauzi Abdul Hamid told Malay Mail the allies should expect coldness from some Umno delegates.
"The Umno grassroots' reception will probably be mixed; on the one hand, they will be welcoming Anwar with open arms out of respect for their president, Datuk Seri Ahmad Zahid Hamidi, who has always been on close terms with Anwar.
"On the other hand, there'll be inhibited or at best lukewarm welcoming of DAP, especially from the grassroots who still can't quite accept the fact DAP is a more crucial partner to Anwar's unity government than Umno is, at least measured by the number of parliamentary seats," he said.
When asked how "progressive nationalism" has fared among the grassroots members, Ahmad Fauzi said the idea was still novel and yet to resonate throughout the party.
This was natural given that DAP had been used as a political bogeyman up until GE15, which would need time to undo, Ahmad Fauzi said.
"The idea hasn't sunk in with the grassroots, most of whom still harbour misconceptions of DAP being an anti-Malay and socialist party. To the party grassroots, DAP is also a purveyor of liberal Islam — a notion abhorrent to conservative Malay-Muslims in general," he added.
Sunway University political analyst Wong Chin Huat said Umno grassroots' lack of enthusiasm for Anwar and PH was inevitable after the years of vilifying the former rivals as wicked.
Wong said this binary view meant some in the party would struggle with the nuance needed to accept the formerly bitter rivals as allies, which was made more difficult by the leadership's inability to explain this to the rank and file.
"They do not know how to educate or persuade their supporters to be sophisticated to treat rivals as frenemies, and not either best buddies or worst enemies (when those relationships may last only for years, no longer decades). The difficulty for Umno members to accept Anwar and DAP in their hall is exactly a case in point," he said.
Wong said Malaysia's dynamics for the foreseeable future was that of a multiparty democracy — coalition governments — which required political parties and their supporters to be able to accept cooperation with rivals when necessary.
For Umno, he said this would entail humility in accepting it was no longer the dominant force it once was and that its vilification of former rivals was not justified.
"With such maturity, Umno can then declare, we have lost but we are rebounding and we will be strong again. It is okay now that we play second fiddle to PH," he added.
As the Anwar administration has made moderation a cornerstone of its "Malaysia Madani" theme, Universiti Teknologi Mara (UiTM) Shah Alam's Centre of Media and Information Warfare Studies director Suhaimee Saahar @ Saabar said Umno would be obliged to embrace the notion.
However, Suhaimee said it was important to understand that the acceptance of a new political ideology was complicated, and would be influenced by varying personal beliefs, regional dynamics, and prevailing socio-political circumstances, among others.
"The success or acceptance of 'progressive nationalism' among grassroots members would depend on how effectively it resonates with their concerns and aspirations, as well as the ability of political leaders to communicate and implement its principles," he told Malay Mail.
Anwar will attend an Umno general assembly for the first time since he was sacked from the party in 1998, as will leaders from PH parties such as DAP.
However, he will not be addressing the delegates of his former party directly during the assembly.
Umno's Barisan Nasional and PH partnered with other coalitions after GE15 to form the national unity government and prevent Perikatan Nasional from taking control of the country.
The Umno assembly will set the tone for the fledgling political cooperation that is set to be tested in the state elections of Kedah, Kelantan, Negeri Sembilan, Penang, Selangor, and Terengganu expected to be held by August.
The former rivals will enter the state elections as allies for the first time, taking on a PN that analysts believe is still riding the wave of support for religious conservatism that nearly let it take federal power last year.