Kit Siang: Did PAS info chief even talk with Hadi? I made personal suggestion for state-federal cooperation, not DAP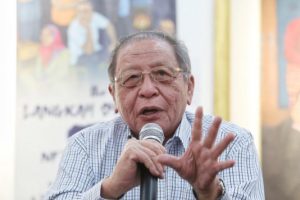 DAP veteran Lim Kit Siang has today slammed PAS for claiming that his party had been the one asking the Islamist party to join the unity government, after he was named as the one who made the proposal.
(MMO) – Lim said PAS has misunderstood his personal suggestion for the party's state governments to cooperate with the federal government, and suggested that its information chief Khairil Nizam Khirudin did not consult party president Tan Sri Abdul Hadi Awang before blaming DAP.
"Obviously, what I have tried to do in the last 14 months was a failure as the PAS President, Hadi Awang, believed that my suggestion that PAS join the Anwar unity government was an official proposal and not my personal unofficial view," he said in a statement.
Reiterating his previous statement addressed to PAS deputy president Datuk Tuan Ibrahim Tuan Man, Lim said he had proposed cooperation to resolve the 60-year water problem and the lack of development in Kelantan, Terengganu, and Kedah.
Citing another previous statement, Lim said for PAS to even join the government it must first demonstrate a change of attitude to show that it supports the Yang di-Pertuan Agong's call for political stability and national unity in Malaysia.
Lim said this included retracting and apologising for the "numerous wild and preposterous allegations" he made against DAP and himself, for PAS MPs to show that they will stop playing up race and religious issues, and for PAS to support the objective to make Malaysia the role model for the world for inter-ethnic, inter-religious, inter-cultural and inter-civilisation dialogue, understanding, tolerance, and harmony.
"Let Hadi state that he thought my proposal was an official one on behalf of the Anwar unity government and let him explain whether he would accept my three proposals before PAS join the Anwar unity government.
"Clearly, the PAS information chief is not in touch with the PAS president to issue the ridiculous statement that I was the one to make the overture for PAS to join the Anwar unity government," he said.