Political instability caused poor SEA Games performance, says Yeoh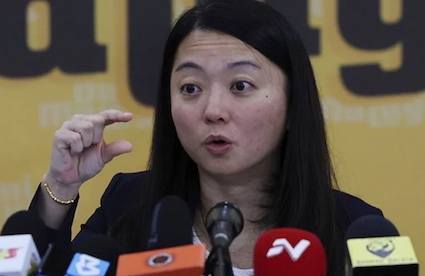 The Malaysian contingent failed to achieve its 40-gold target and finished seventh out of 11 countries in Phnom Penh this week.
(FMT) – The recent political instability is partly to blame for Malaysia's poor performance in the just-concluded SEA Games in Cambodia, says youth and sports minister Hannah Yeoh.
Malaysia has seen four changes in government since the 2018 general election when Pakatan Harapan came to power, putting an end to more than six decades of rule by Barisan Nasional.
Yeoh said that over the past five years, there have been many ministers who have left their positions in less than a year, with long-term plans and strategies unable to be implemented properly.
"Apart from the economy, we see that (poor) sports (performances) is one of the most glaring outcomes from political instability," she said at a press conference in Putrajaya today.
"Before the ministry has received a new budget and conducted a post-mortem, there is a change in ministers and the team's direction."
The Malaysian contingent failed to achieve its 40-gold medal target at the May 5-17 SEA Games, where it finished seventh in the 11-country tournament with 34 gold, 45 silver and 97 bronze medals.
Asked to respond to criticism levelled at the country's poor performance, Yeoh said she "won't say sorry for deciding to invest in youth athletes".
"This is the right decision for Malaysia," she said.
She said the ministry was focused on nurturing new talent at the SEA Games, with 63% of the athletes sent to Cambodia made up of international debutants.
Although the country failed to meet the gold medal target, she said, the athletes had exceeded the silver medal target by eight, and the bronze medal target by 32, giving Malaysia an extra 40 medals.
"For those who said that this is Malaysia's worst-ever performance in the SEA Games, I have to clarify that winning in 51% of the categories we participated in is much better than our performance in 2019 in Manila, when we won 48% of the categories we participated in.
"Therefore, it's unfair to judge the performance based on the gold medals we get," she said.
Meanwhile, Olympic Council of Malaysia president Norza Zakaria said the less than favourable results could have been avoided if the country had focused on developing young athletes immediately after the 2019 SEA Games in the Philippines.
"If we were to introduce young athletes now, it would take another one or two (tournament) cycles to see improvement," said Norza.
Yesterday, Malaysia's chef de mission to the SEA Games, Nasir Ali, apologised for the country's failure to achieve the 40-gold target.