PM Anwar: Azam Baki, Idrus Harun's contracts extended as they are doing a good job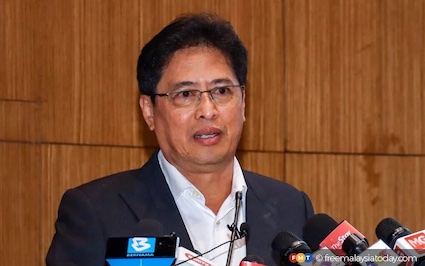 (MMO) – Prime Minister Datuk Seri Anwar Ibrahim said he decided to extend the contract of Malaysian Anti-Corruption Commission (MACC) chairman Tan Sri Azam Baki because he felt the latter was doing a good job.
Anwar said the same goes for the Attorney General (AG) Tan Sri Idrus Harun, adding that he wanted to give them both space to do their jobs.
"Azam was appointed during the former prime minister's term. Even though there were issues brought up before, from a work standpoint I wanted to give them some leeway, space for them to do their jobs.
"Thus far, I noticed they are doing a satisfactory job and are taking action without bias. Apart from that, we see ministers' offices being raided and officers being compromised during these investigations, something that has never happened in our nation's history.
"So in that capacity, we continued their services," he told reporters today at Perdana Putra.
Azam was made MACC chief commissioner during Tan Sri Muhyiddin Yassin's tenure as prime minister. He however has denied appointing Azam.
Muhyiddin asserted that he did not specifically choose or appoint Azam in 2020 during his tenure as prime minister. Almost two years into Azam's appointment, the former prime minister clarified that Azam was a recommendation from the Chief Secretary to the Government.
The chief secretary then was Tan Sri Mohd Zuki Ali, who still is the office holder
Anwar and current Economic Affairs minister Rafizi Ramli had said before the 15th general elections that they would remove Azam as the MACC chief but following Pakatan Harapan's victory they extended his contract for a year.