'More Islamic' to grant Najib royal pardon, says PAS man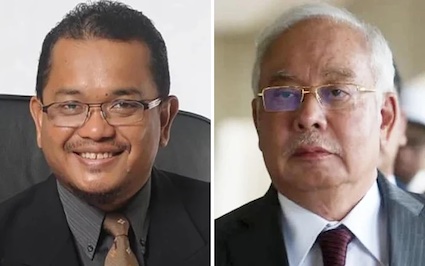 Subang PAS chief Zaharuddin Muhammad says former prime minister Najib Razak's trial did not follow 'Islamic guidelines'.
(FMT) – A royal pardon for Najib Razak would be "more Islamic" than keeping him in jail, says a Selangor PAS leader.
In a video clip shared on TikTok, Subang PAS chief Zaharuddin Muhammad said this was because of revelations about the judge who had presided over the former prime minister's SRC International corruption trial.
He added that Najib's trial did not follow "Islamic guidelines", considering the alleged conflict of interest pertaining to Justice Nazlan Ghazali.
"Therefore, between keeping Najib in prison and releasing him with a royal pardon, the latter is more Islamic," he said.
According to Zaharuddin, under Islamic law, a judge in a case like this should be agreed to by both the prosecution and defence.
He said that under Islamic law, judges do not have the power to reject evidence submitted by either party.
In the two-minute video, Zaharuddin, who is also PAS president Abdul Hadi Awang's son-in-law, said that justice "needs to be returned" by separating the judiciary and the executive.
He added that a new judge who is agreed to by both parties should be appointed to the case instead of someone appointed on the prime minister's advice.
Yesterday, FMT reported that the Pardons Board had not discussed Najib's application for a royal pardon.
Speaking on condition of anonymity, a source in the know denied reports claiming that the board, chaired by the Yang di-Pertuan Agong, would discuss Najib's application yesterday.
Umno president Ahmad Zahid Hamidi also urged all quarters to stop making "inappropriate comments" on his party's bid to seek a pardon for the former prime minister.
He was responding to Amanah communications director Khalid Samad earlier calling for Najib's pardon application to be rejected. Amanah is a member of Pakatan Harapan (PH) which is a partner of Umno in the unity government.
Najib is serving a 12-year prison sentence and was fined RM210 million after the Federal Court upheld his conviction for charges of abuse of power, money laundering and criminal breach of trust over SRC funds amounting to RM42 million.