PAS is not about Islam, says J-KOM, while DAP says PAS is too Islamic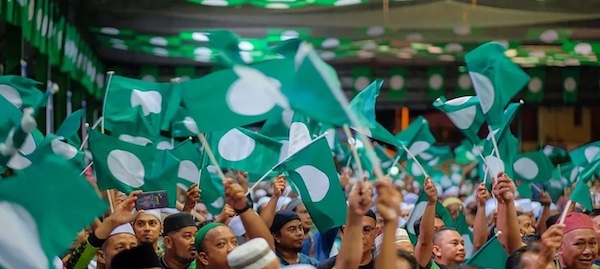 (The Star) – PAS has "totally changed", says Datuk Mohammad Agus Yusoff in expressing his "discomfort" over the Islamist party's current politics,
"I was raised in a PAS family. I was supporting PAS until my adulthood although I was never a PAS member.
"The basis for my appeal was simple. PAS fought for Islamic and social justice," said the Community Communications Department (J-KOM) director-general in a Facebook post on Wednesday(April 26).
J-KOM is a unit under the Prime Minister's Department aimed at conveying accurate information on the government's policies to the people.
"However, PAS has totally changed. Its crusade is filled with religious rhetoric and it is riding on religion to gain power," he said.
He added PAS' attacks against those who have a different opinion than the party is fuelled by emotions and without morals and manners.
"I am uncomfortable with PAS' politics now. When we reprimand or criticise, we are seen as misguided or bad. In the past, PAS used to be disgusted with corruption, but now it sees corruption as 'donation'," he claimed.
"PAS' politics no longer has compassion. It only has hatred for those who are different from it," he said, citing an example that PAS claimed supporting the party will guarantee heaven while those who oppose it will end up in hell.
Mohammad Agus said such politics must be rejected.
"I hope the youth and voters who want the country to develop and be harmonious will reject such politics," he said, adding that the country must be peaceful for the people's wellbeing.
The former political science lecturer said that he had gone back to Kelantan to celebrate Hari Raya, and there were three issues that were troubling him.
They were poor water quality, narrow and pothole-filled roads and rubbish everywhere – which he said were among the persistent problems in the PAS-led state.
Mohammad Agus also said that he would be travelling to Penang and wanted to enjoy the difference.
Meanwhile, Kelantan PAS deputy youth chief Mohd Firdaus Nawi said on Wednesday( April 26) that it is rather appalling that Mohammad Agus had dragged Penang into this by comparing the two states.
"Just say Kelantan is dirty and filled with rubbish but do not compare it with Penang as it has the same problem," he said, while attaching a few news reports links on the same issue in Penang.
"Again it is not Penang's fault but Agus was wrong. His position as Community Comms Department director-general is not only disputed by the opposition, but also the component parties in the Anwar-Zahid unity government," he added.