Student activist criticises Anwar over 'no need for rallies' advice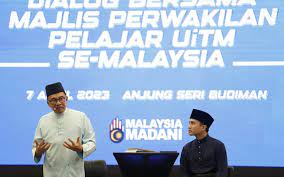 "The protests helped KeAdilan and Anwar gain support. Is he trying to say his party and his own methods were wrong back then?"
(FMT) – Prime Minister Anwar Ibrahim's recent advice to students that there is "no need for street protests" has raised eyebrows, with an activist reminding him of his own struggle when he took to the streets to fight for his cause.
At a dialogue with UiTM students last Friday, Anwar advised them that there was "no need" to resort to street demonstrations and rallies, saying that during his time in the 1970s and 1980s, there were no platforms for students to voice their dissatisfaction, so they took to the streets.
However, New Student Movement Alliance (NESA) secretary-general Koh Ling Xian told FMT that KeAdilan, which was founded by Anwar and which later became PKR, had used street protests and roadshows to promote its agenda.
"The protests helped KeAdilan and Anwar gain support. Is he trying to say his party and his own methods were wrong back then?" Koh asked.
He pointed out that protests remained a basic human right that should be safeguarded, while laws limiting freedom of expression, especially dissent, should be removed.
"Protests, be it in any form, have nothing to do with modern times or the past. It is purely the citizens' civil right to do so. It is one of the many ways for the rakyat, including students, to voice their opinions or even disagreements," he said.
Although Koh welcomed Anwar's promise to not impose any restrictions on street demonstrations and rallies, he remained sceptical, saying that "such a promise is not solid enough".
Singapore Institute of International Affairs senior fellow Oh Ei Sun observed that Anwar's "flip flop" in his stance on student street protests was common with those who had assumed power in the government.
"Anwar is not the first, and will not be the last politician to have mildly changed their political stance after they form or join government," he said. "Incumbent vantage dictates that one would like to face the least resistance in one's policy enactment and implementation."
At the same time, Oh noted that it would be unseemly for the prime minister to reverse course, leading to his "advice" to the students, instead of issuing an outright "instruction" on the matter.
Muda secretary-general Amira Aisya Abd Aziz reminded Anwar that universities remained a sphere for open discourse, including dissent, as long as it did not touch on race, religion or royalty.
She said rather than blaming student organisers for such talks or protests, the government must get rid of laws, regulations and rules that prevented students from carrying out talks freely.
"The prime minister is the best person who can understand and relate to this. He experienced unfair obstructions to holding dialogues in universities in the past. We must now liberate the universities and the students," she said.
Last week, Anwar addressed a question about street demonstrations and rallies, stating that today's students should think creatively and not necessarily use the same methods that were utilised in the past.
He said young people could express their protest as long as they followed the rules and avoided promoting extremist ideologies.
Anwar then questioned the need for street demonstrations and rallies, and suggested that if students had issues with a particular ministry, they should let the minister know because Putrajaya's instruction was to give students the opportunity to voice their opinions.