Quest for Najib's pardon and court move by Zahid raise questions about PM Anwar's leadership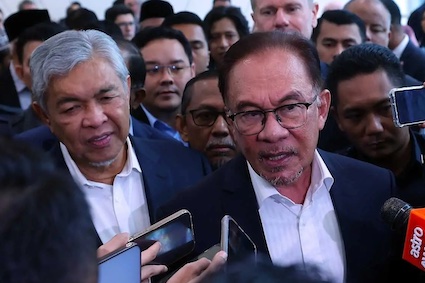 (The Straits Times) – Umno's move to ask the Malaysian King to consider a royal pardon for former premier Najib Razak has raised questions about Prime Minister Anwar Ibrahim's stance in handling political manoeuvres by his political ally.
The controversy over the pardon request was followed quickly by another hot potato.
This involved Umno president Zahid Hamidi, who is also Deputy Prime Minister, getting his High Court trial postponed on Monday by four months after he asked the Attorney-General's Chambers to drop 47 graft charges against him based on "new facts and evidence".
The Umno-led Barisan Nasional (BN) is a crucial ally in Datuk Seri Anwar's unity government, with 30 seats in Parliament. Malaysia's five-month old government led by Mr Anwar's Pakatan Harapan (PH) coalition is likely to collapse should BN withdraw its support.
Najib has served eight months of a 12-year jail term for graft after exhausting his legal appeals against conviction in a case linked to state fund 1Malaysia Development Berhad (1MDB).
PM Anwar has said that he will be a member of the Pardons Board panel that will decide on Umno's request. The recommendations of the panel would be passed on to the King for his consideration.
But Mr Anwar said the decision to grant a pardon to Najib would be up to Malaysia's titular head of state, Sultan Abdullah Ahmad Shah, and not the board.
"I will be part of the process, and on the matters of the awarding of honorific titles and pardons, that is the prerogative of the Yang di-Pertuan Agong (the King)," Mr Anwar said on Saturday.
Johor MP Hassan Abdul Karim, who is from Mr Anwar's Parti Keadilan Rakyat (PKR), on Tuesday said the government's good image has been shaken by the Najib and Zahid moves. He warned that voters will reject PH should even one of the appeals be approved.
"The political coalition of PH and Parti Keadilan Rakyat will be rejected by the people in the next six state elections," Mr Hassan said. "Following that, PH and PKR will be rejected by the people in the next general election. He was referring to state polls in six states that must be held by August this year.
Asian Studies Professor James Chin from the University of Tasmania commented wryly: "Hari Raya is coming up and it's the time people ask for forgiveness. But the funny thing is, it's difficult to ask for forgiveness because Najib has always said he's not involved."
Amid tensions raised by the request for Najib's pardon, a senior member of Mr Anwar's PH coalition has made clear that it is Umno, and not the PH-led government, that is making the amnesty appeal.
"The Cabinet never discussed this (pardon) and Cabinet ministers from Umno had not raised the issue," said Transport Minister Anthony Loke, secretary-general of the Democratic Action Party which has the most number of seats in Parliament among the three PH parties.
"The issue of a pardon is not the government's stand but that of Umno as a political party," he said on Tuesday, when asked by reporters.
This followed remarks last week by Umno secretary-general Asyraf Wajdi Dusuki that its leadership council had unanimously agreed to seek an audience with Sultan Abdullah to present a memorandum urging him to pardon Najib.
Separately, at the continuation of his trial over his graft case on Monday, Umno chief Zahid controversially attained a four-month adjournment of proceedings, on the basis that the prosecution would need time to study new evidence his legal team had earlier presented Attorney-General Idrus Harun.
His lawyer had sent over 200 pages of documents to the A-G in January and February on Monday, seeking to have the charges against Datuk Seri Zahid for misappropriating RM31 million of funds from his foundation Yayasan Akalbudi (YAB) dropped.
The High Court agreed to the postponement of the trial, which is in its defence stage, after Deputy Public Prosecutor Abdul Malik Ayob said the prosecution was instructed by the A-G not to object to a postponement.
"PH's political legitimacy was based on multiculturalism and rejection of corruption… So Najib's pardon would severely demoralise the PH base from voting and electrify (opposition coalition) Perikatan Nasional's base to win more swing Malay voters," said Professor Wong Chin Huat, a political scientist at Sunway University.
"This would demoralise the whole country. Anwar can kiss goodbye to his reformist credentials if Najib walks free, whatever his storyline is."
Regarding Najib's request for a royal pardon, Prof Wong added: "Zahid can also expect the same if he is convicted later. This may also be used to send a message to the judges: Why send them to jail if they would be pardoned later? Why make enemies with politicians who may make a comeback? 'So what if I am convicted, I would be pardoned later'."