Umno using political pressure to push for Najib's pardon, says Muhyiddin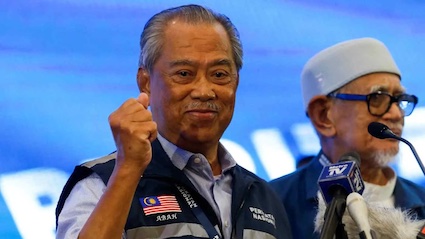 However, the Perikatan Nasional chairman says the matter will ultimately be left to the discretion of the Pardons Board.
(FMT) – Perikatan Nasional chairman Muhyiddin Yassin has accused Umno of using "political pressure" to push for a royal pardon for its former party president, Najib Razak.
Muhyiddin said there were certain procedures that had to be followed in granting pardons and that PN understood the matter was at the discretion of the Pardons Board.
"As far as I know, anyone can (apply for a pardon) but they (Umno) are using political pressure," Utusan Malaysia quoted him as saying.
When asked to comment on Anwar Ibrahim's involvement in Najib's pardon application after the prime minister said he was on the Pardons Board, Muhyiddin declined to comment.
On Friday, Umno secretary-general Asyraf Wajdi Dusuki confirmed that the party had asked the Yang di-Pertuan Agong to consider granting Najib a pardon.
In a statement, he also said the Umno Supreme Council would also seek an audience with the Agong to present a memorandum on the matter.
Asyraf said the memorandum was handed to the top leadership by the 191 Umno divisions and was also signed by the Supreme Council as well as the women, youth and Puteri wings of all 191 divisions.
Yesterday, Anwar said there would be no conflict of interest with his involvement in the Pardons Board as it was the sole prerogative of the Agong to grant pardons.
Najib began serving his 12-year prison sentence on Aug 23, 2022 after he was found guilty of criminal breach of trust, power abuse and money laundering involving RM42 million of funds belonging to SRC International.
Earlier this week, Najib said he would seek to use the dissenting judgment by Federal Court judge Abdul Rahman Sebli to support his application for a royal pardon.
On March 31, Rahman released a 78-page minority judgment, which stated that Najib had no legal representation when a Federal Court panel heard and dismissed his appeal in the SRC case.
Rahman, who is the Chief Judge of Sabah and Sarawak, was a member of a five-panel Federal Court bench that heard Najib's application for a review of the court's decision to dismiss his appeal in the SRC case. The other four judges found no grounds to free Najib.