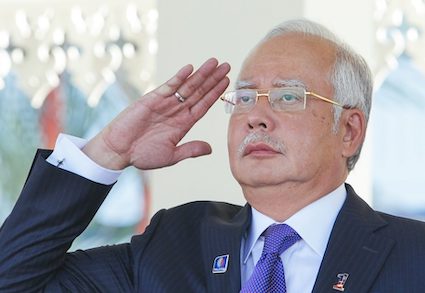 Murray Hunter
Over the last few days there has been a flurry of activities in regards to the pardoning of former prime minister Najib Razak, who is serving his 12 year sentence in Kajang Prison.
Najib lost his judicial review on his SRC corruption case conviction, where Najib claimed he was refused an adjournment in his appeal, and thus, deprived of legal representation by counsel. Najib also alleged the presiding judge had a conflict of interest, and his new legal counsel wasn't given enough time to study the trial documents.
The court ruled 4-1 in the judicial review that there was no prejudice or miscarriage of justice in Najib's case, which closed all avenues of appeal. However, the dissenting judge, Justice Abdul Rahman Sebli, in his minority judgement said that Najib had no legal representation when the Federal Court panel heard and dismissed his appeal.
Over the last few days, it was publicly disclosed that Law Reform minister Azalina Othman Said had sent a letter to Najib's lawyers claiming that the presiding judge on Najib's SRC case had a conflict of interest, and violated the judge's code of ethics. This was based upon an MACC investigation, which was clearly outside the commission's jurisdiction. Lawyer and activist Ambiga Sreenevasan said in her Twitter account that such action is 'undermining the institution of the judiciary', and is 'clear executive interference', in a plan to pardon Najib.
UMNO's supreme council, with support from 191 divisions, UNMO Youth and UMNO Puteri, are partitioning the Yang Di-Pertuan Agong to grant a pardon to Najib. Prime minister Anwar Ibrahim had been silent of the issue until this morning, where he said at a "Kitu Untuk Kita' function in Shah Alam, that there was no conflict of interest of his involvement in the pardon process, as the Agong has sole discretion to grant a pardon.
Under Article 42 (11) of the Constitution, the Pardons Board consists of the Yang Di-Pertuan Agong, the minister for Federal Territories (which will be Anwar by default there is no minister of federal territories), the attorney general and three other appointees by the Yang Di-Pertuan Agong. The Agong, would be heavily weighted by the advice given to him by the rest of the board.
The case against a pardon
Najib has been convicted and is now serving his sentence 'paying for his crimes', he was convicted of. This is according to public expectation. Current public opinion at this time is strongly against any pardon for Najib. Any early release of Najib would most probably result in a massive public backlash.
The rhetoric of the Anwar administration has been staunchly anti-corruption, and by Anwar's own comments, should exclude no one from prosecution. Any release of Najib would make a mockery of Anwar's stated position. This could translate to electoral unpopularity of Pakatan Harapan in the coming state elections, unless the pardon occurs afterwards.
This could add greater imputations to Muhyiddin Yassin's claims he was politically persecuted.
The commencement of the pardon process for Najib will make Anwar look like he is a captive of UMNO. Any pardon would also potentially reflect poorly upon the Agong as well.
The release of Najib, puts the person who was responsible for much political instability, back into the political arena. Najib would be totally free to enter politics once again.
Najib still has three more trials related to 1MDB. If a pardon was granted to Najib now, more pardons would have to be given to him in the future. So, the mechanics of this issue need to be decided.
The case for a pardon
There are a number of political advantages of granting a pardon to Najib, particularly for Anwar and Pakatan Harapan. If Najib, returned and threw his support behind rebuilding UMNO, then UMNO could be a big 'bullbar' to push back the forces of Perikatan Nasional (PN) in the Malay heartlands. Najib's presence back in UMNO, continuing his alliance with Ahmad Zahid Hamidi, would bring stability back to UMNO, and thus, the Anwar led government.
Najib still has a very strong support base within UMNO. It didn't dissolve when he went to jail. Najib's power will be amplified, as those who were critical of the 'court cluster' have been banished from UMNO by Zahid.
This is a win-win for everyone who doesn't want PN in power, particularly PAS.
If any pardon is given to Najib, Anwar may receive criticism for a while, which should wear off and be forgotten by the time GE15 occurs.
In addition, saving UMNO carries some importance to the Malay establishment. If they (the establishment) believe Najib can do the job, then it is worthwhile letting him free.