Anwar Ibrahim: Disaster in Saudi Arabia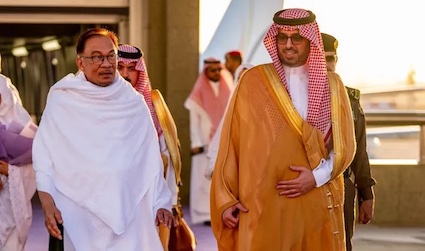 Wisma Putra needs a massive shake up
Murray Hunter
On the evening of March 21, Malaysian prime minister Anwar Ibrahim began his publicly unannounced trip to Saudi Arabia. Early on, people in the know around Putrajaya weren't too sure whether it was a private or official visit. The timing wasn't right as it was the beginning of Ramadan, the Muslim fasting month. It was mooted, Anwar and his wife were travelling to perform the Umrah. It was also thought their daughter Nurul Izzah, travelled by a commercial flight to joint her parents to perform the Umrah.
Upon arriving in Jeddah in the morning of March 22, Anwar was greeted at the Jeddah International Airport by Jeddah's governor, Prince Saud bin Abdullah. This was the first sign that Anwar's visit to Saudi Arabia was a working visit, rather than a private visit.
On March 22, the Malaysian Ministry of Foreign Affairs issued a press release stating that Anwar's visit was the result of an invitation of His Royal Highness Mohammed Salman bin Salman Al Saud, and Crown Prince and prime minister, Mohammed Salman bin Abdullah. The press statement went further stating Anwar would have audiences with his Majesty the King and Crown Prince and prime minister.
The visit came on top of Anwar's announcement in February, after foreign minister Zambry Abdul Kadir met with his counterpart Faisal bin Farhan in Riyadh, that Malaysia and Saudi Arabia have agreed to finalize talks on establishing a Saudi Arabian-Malaysian Coordination Council to take the bilateral relationship to the next level.
Consequently, there were some expectations of an historic announcement that might be made during Anwar's visit.
It appeared, Zamby had set things up for his boss to have a major media 'coup' during his visit. The Malaysian media seemed to pick up interest, where all Anwar's meetings were reported on an hourly basis. However, as the duration of the visit was coming to an end, there was still no meeting, or even dinner (breaking of fast), with His Majesty King Salman and the Crown Prince/prime minister.
On Saturday afternoon March 25, it became clear there would be no meeting. A report from Bernama said the scheduled meeting with His Majesty the King and Crown Prince/prime minister could not take place because of a change in their scheduling during the beginning of Ramadan.
Anwar told the media he was disappointed not to meet the Saudi leaders, but had been requested to extend his stay two days for a rescheduled meeting. However, Anwar stated he must return to Malaysia for a buka puasa or breaking of fast with the Yang Di-Pertuan Agong, and has a scheduled one-day visit to Cambodia to undertake, so, extension of stay is impossible.
Consequently, Anwar and his group performed prayers at the Prophet's Mosque in Madinah, and were seen off at Abdulaziz International Airport by Prince Saud bin Khalid Al-Faisal, the deputy governor of Madinah.
What went wrong
At this stage there is no definitive explanation as to why Anwar didn't meet with the Saudi leadership. We can only surmise the possibilities.