Programmes influencing non-Islamic religions on Muslims an offence: Mais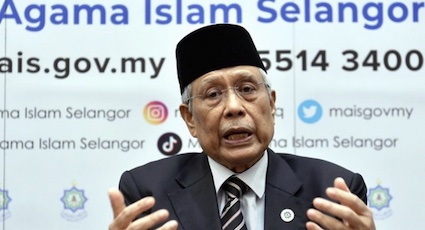 Council against Youth Ministry's Impact Malaysia programme, which allows youths to learn about different religions
*Bernama) – Any programme made to persuade or influence a Muslim to be inclined towards any non-Muslim religion is prohibited in Selangor and an offence under the Non-Islamic Religions (Control of Propagation Among Muslims) Enactment 1988, said Selangor Islamic Religious Council (Mais) chairman Tan Sri Abdul Aziz Mohd Yusof.
He said this in reference to a poster being circulated online concerning the Projek Artikel 11 Jom Ziarah programme organised by Impact Malaysia, which is under the Youth and Sports Ministry.
Aziz said the programme invites young people in Malaysia who are interested in learning more about various different religions to join an event at a church in Klang tomorrow.
"Mais is of the view that this programme has elements to attract the interest of youths, especially Muslim youths, to study or acquire knowledge related to religions other than Islam.
"If this kind of programme is allowed to be organised, it can subtly and unconsciously influence the thoughts of Muslim youths to be inclined towards a religion other than Islam," he said in a statement today.
Aziz said Mais is of the opinion that understanding, tolerance and community unity are very important to ensure the harmony and peace of Malaysia.
However, he said that the programme that allows learning about other religions other than Islam in churches or houses of worship of other religions requires certain controls and restrictions to ensure that there is no element of persuading Muslims to be inclined and interested towards religions other than Islam, in addition to no involvement of Muslims in the rituals of other religions.
He said that Mais also took note of Youth and Sports Minister Hannah Yeoh's latest statement in Parliament that the programme, which was originally open to everyone is now limited to non-Muslim youths only.
"However, a check by Mais has so far found that posters and advertisements on social and electronic media have not been amended to show that this programme is only for non-Muslims.
"Mais advises any organiser whether from the public sector, non-governmental organisations or other organisations who wishes to hold activities and programmes on the basis of promoting unity and harmony to be more careful and to take care of the sensitivities of Muslims and the community in our country," he added.