Guan Eng sends legal letter to Muhyiddin, says will sue for defamation if no apology given this week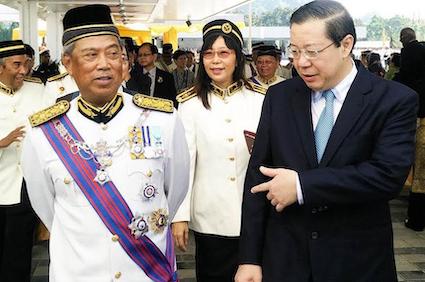 (MMO) – DAP chairman Lim Guan Eng today demanded an apology and compensation from former prime minister Tan Sri Muhyiddin Yassin whom he accused of making "false and malicious" attacks against him.
Lim issued a reminder that he will sue the Bersatu president for defamation if no satisfactory response is given within a week.
Lim referred to Muhyiddin's alleged defamatory statements against him on March 10 and March 11 on his Facebook account as well as his remarks on March 12 to the media.
Muhyiddin's remarks had alleged that Lim had as the finance minister in the past purportedly been involved in the previous government's alleged cancellation of the tax exemption status for charitable organisation Yayasan Albukhary which was said to carry out work helping Muslims. Lim disputes Muhyiddin's allegations as untrue.
In the legal letter to Muhyiddin, Lim demanded for a "full and unequivocal public retraction and apology" over those remarks, as well as an undertaking or promise to not repeat those allegations, and demanded Muhyiddin to propose a sum of money as compensation.
"This letter is written in accordance with the pre-action protocol for defamation. We look forward to hearing from you without delay. If we do not receive a satisfactory reply within seven days from the date of this letter, our instructions are to file a Writ of Summons against you to seek appropriate remedies against you without further notice to you," law firm Guok Partnership, which is acting for Lim, said in the letter of demand dated today that was posted on Lim's Facebook account.
The letter of demand was addressed to Muhyiddin at a Bukit Damansara address and at his party Parti Pribumi Bersatu Malaysia's office.
When contacted, Lim's lawyer Guok Ngek Seong told Malay Mail that the letter of demand has been sent out and that there is acknowledgement of receipts of the letter at both addresses.
In the letter, Lim denied Muhyiddin's allegedly defamatory allegations, which he described as "politically-motivated" and aimed at tarnishing his image as being anti-Malay or anti-Islam, among other things.
Lim's lawyers instead asserted his work for all races: "Over decades as an active politician, our client has demonstrated through his actions and conducts that he has defended the rights of every race regardless of any religion in Malaysia."
The legal letter said Muhyiddin had failed to show proof that Lim had purportedly authorised or instructed the Inland Revenue Board to impose tax on Yayasan Albukhary, adding that this showed that Muhyiddin's remarks were baseless.
The legal letter also suggested that Muhyiddin's alleged political mudslinging against Lim was aimed at deflecting public attention from the multiple criminal charges faced by Muhyiddin.
Muhyiddin was on March 10 and March 13 slapped with seven charges in court, including four counts of abuse of power under an anti-corruption law over RM232.5 million in alleged bribes from three companies and one individual (Bukhary Equity Sdn Bhd, Nepturis Sdn Bhd, Mamfor Sdn Bhd, Azman Yusoff) for Bersatu.
The remaining three charges faced by Muhyiddin are the alleged laundering of RM200 million, which were deposited into Bersatu's bank accounts.
Muhyiddin has pleaded not guilty and is claiming trial to those seven charges.