PN's political prosecution claim 'not baseless', says C4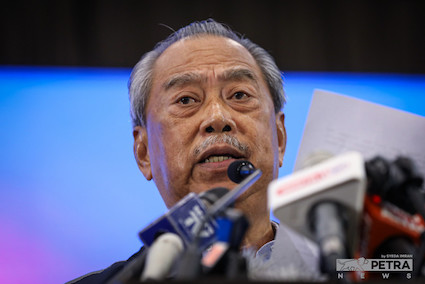 The anti-graft watchdog also questions why MACC only started its probe and prosecutions on cases linked to the Jana Wibawa programme after a new government came to power.
(FMT) – Claims by Perikatan Nasional (PN) politicians that the investigations and prosecutions against them are politically motivated are "not completely baseless", says the Center to Combat Corruption and Cronyism (C4).
In a statement, the anti-graft watchdog said that previous administrations had actively engaged enforcement agencies to "intimidate and harass political opponents".
C4 did not name which previous administrations it was referring to. Its statement comes after PN chairman Muhyiddin Yassin was charged in court with corruption yesterday.
C4 also said it was imperative for the Malaysian Anti- Corruption Commission (MACC) not to be internally motivated by political leanings of any sort. It went on to question why the agency only started its probe and prosecution of cases linked to the Jana Wibawa programme after a new government came to power.
"Why were these investigations not initiated when allegations of the previous government's financial mismanagement and malfeasance were already spreading?"
It said that in the immediate term, the MACC should be removed from the direct influence of the prime minister and the executive branch. It suggested that the anti-graft body be placed under the oversight of Parliament.
C4 also called for institutional reforms that would improve transparency and accountability, such as the enactment of a Procurement Act, a Political Funding Act as well as the establishment of an Ombudsman office.
The MACC yesterday denied there was any interference in its investigations into the Jana Wibawa project, stating that its probe was based on information and evidence obtained by the commission itself.
Former prime minister Muhyiddin claimed trial to four counts of abuse of power in relation to the Jana Wibawa programme to obtain RM232.5 million for Bersatu. He was also charged with two counts of money laundering amounting to RM195 million.
The Bersatu president maintained that he did not commit any wrongdoing during his two-year tenure in office, adding that the charges against him were "political in nature" and meant to tarnish his reputation and that of PN and Bersatu.
PN secretary-general Hamzah Zainudin, Bersatu Supreme Council member Azmin Ali, PAS deputy president Tuan Ibrahim Tuan Man and PAS secretary-general Takiyuddin Hassan were among the other PN leaders who had voiced similar concerns about politically motivated charges against the opposition coalition.
Bersatu's Tasek Gelugor MP Wan Saiful Wan Jan and the party's deputy Segambut chief Adam Radlan Adam Muhammad were also charged last month with soliciting and accepting bribes linked to Jana Wibawa.
The Jana Wibawa programme, which was introduced in 2020 when Muhyiddin helmed the government, was aimed at helping Bumiputera businesses during the Covid-19 pandemic.