Show the RoS letter, people are confused – Ismail Sabri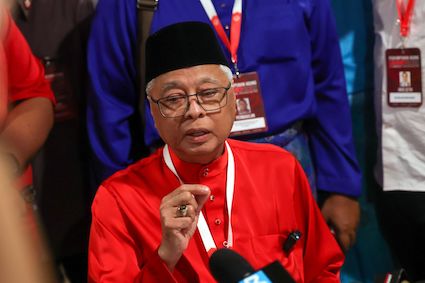 (NST) – Datuk Seri Dr Ahmad Zahid Hamidi was today asked to show proof of the Registrar of Societies' (RoS) letter accepting the party's no-contest resolution for the president and deputy president posts.
This was Umno Vice President, Datuk Seri Ismail Sabri Yaakob's response after it was reported that the RoS, in a letter, had approved the additional no contest motion adopted at the 2022 Umno General Assembly.
"Ask him (Zahid) to show the ROS letter," he said.
"It would also be good if he could show the letter because there are two media reports… one said the RoS was rejected and the other, that it didn't take a day for the KDN (Home Ministry) to approve it. Everyone is confused.
"I also read media reports," he told BH today.
Last night, party president Zahid revealed that Umno had received a letter from the Home Ministry confirming that the RoS had accepted the party's resolution that there would be no contest for the posts of Umno president and deputy president.
However, a news portal reported that the RoS, which had completed an investigation into complaints made by two Umno members, ruled that the additional motion adopted by party delegates was invalid.
The news portal did not attribute any individual or source on the matter.
On Jan 20, two Umno members sent a complaint to the RoS to request a review of the additional motion approved at the 2022 Umno General Assembly on the president and deputy president posts not contested at this year's party polls.
The complaint was submitted by Kuala Nerus Umno Division member Muhammad Aizat Fikri Mohd Nasir and Seremban Umno member Muhammad Fiqri Firdaus Muhammad Rom, who wanted the RoS to determine if there is a dispute regarding the additional motion brought in the general assembly.
Muhammad Aizat claimed that the additional motion submission was illegal and contrary to the Umno constitution as well as the division and branch conference rules.