FAKE NEWS USING MALAYSIA TODAY MASTHEAD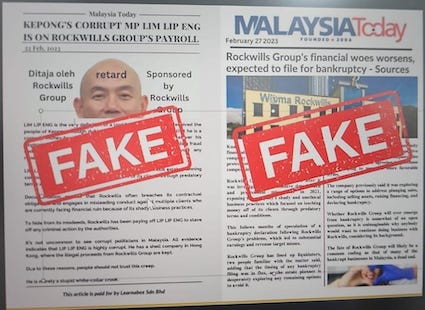 YM Raja Petra,
I am writing on behalf of my client, Rockwills, to draw your attention to the fact that certain parties have been using Malaysia Today's masthead to create fake news on Rockwills (please see attached photo).
Please find enclosed a letter from Azhar Iskander Hew, Group CEO of Rockwills, explaining the matter as well as a press statement from Rockwills.
I would appreciate it if Malaysia Today could assist in correcting the misinformation created by these perpetrators.
Thank you and have a good week ahead.
Best regards
—
Mei K KUAN
Partner
Quattro Communications
Web: www.quattro.com.my
FB: www.facebook.com/quattrocommunications/