Hadi: Criticisms on 'militia-styled cosplay' indicative of Islamophobia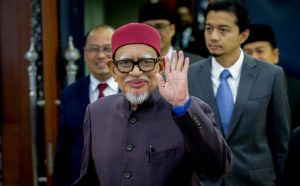 Pas president Tan Sri Abdul Hadi Awang described the criticisms levelled against the party that condemned the use of Islamic military weapon replicas and costumes during the recent Himpunan Pemuda Islamic Terengganu 2023 parade as indicative of Islamophobia.
(NST) – He claimed the parties involved had also described Islam as a 'frightening' religion.
"What do they fear so much about Islam. The comments are Islamophobic with various accusations, accusations and slander.
"They are afraid of Muslims carrying wooden swords, while the enemies of Islam use destructive nuclear weapons, which are forbidden by Islam."
He said this in a speech during an event yesterday.
Also present was Pas deputy president Datuk Seri Tuan Ibrahim Tuan Man.
Abdul Hadi said it was unfortunate there were parties who were influenced by the narrative of fear that a particular party was trying to portray.
"Unfortunately there are people who believe Islam is something to fear. Islam's success is not with weapons, but justice, wisdom," he said.
The use of replica swords and costumes related to the parade last Friday sparked intense debate on social media.
Home Affairs Minister Datuk Seri Saifuddin Nasution Ismail described the organisation of a parade with replica weapons in an open gathering as inappropriate and inviting public unrest.
He said he took the matter seriously and when it went viral on social media the parade had obviously caused distress among the community.
Following that, Terengganu Police Chief, Datuk Rohaimi Md Isa, was reported to have said that police seized a replica of the weapon used during the parade to assist the investigation into the matter in accordance with Section 4(1)(a) of the Sedition Act.